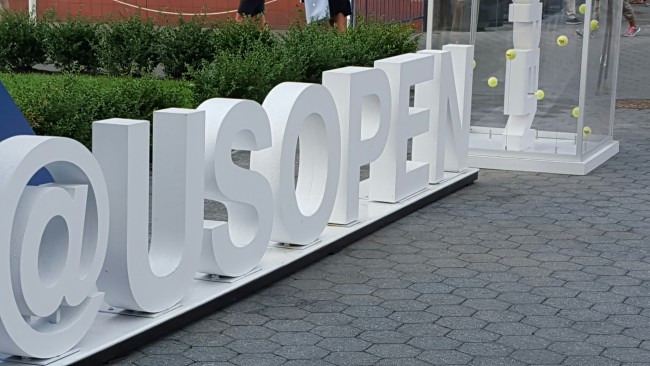 Attending the U.S. Open Tennis Tournament in Flushing Meadows, NY has always been a dream of mine. It was one of those dreams I kept tucked inside because the probability of it happening just seemed remote. However, this year that dream has come true. While in New York with WSB-TV, I was able to see the US Open Tennis tournament!  It was absolutely amazing.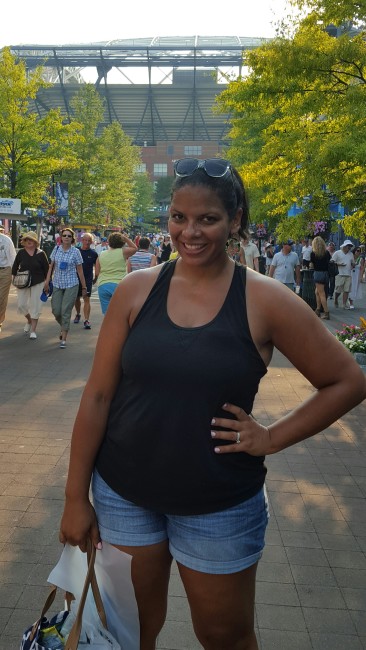 Since I've obviously never been to the US Open I had tons of questions. Thankfully I could pepper the coach of my tennis team, Oscar Hurtado, who has been to over 20 U.S. Open Tennis championships and is a wealth of specific, concrete knowledge about how to make the most of my experience.  I wanted to share his knowledge with you along with what I learned from attending my first US Open Tennis event. Whether you are going this year yet, or plan/hope/dream to go in the future, check out some do's and don'ts of attending the US Open.
11 Tips for Surviving the US Open Tennis Tournament
Don't bring a full size backpack. They aren't allowed. A small nylon backpack or simply your purse is the best bet. All bags will be screened.
Bring water. Drinks are not allowed but sealed water bottles are allowed. Empty water bottles are also a good idea since you can easily fill them from the water fountains when you get there. Water of course is available for purchase inside the stadium.
Some snacks allowed. Limited amounts of food are allowed so you can bring some small snacks with you. This is especially important for anyone with dietary restrictions. There are plenty of food stands on the grounds though. (Just bring your wallet as they can be pricey.)
Don't buy souvenirs from first booth.  There are many souvenir stands on the grounds and many of them have different and unique items available for purchase. And there are no exchanges or refunds.
Be sure to wear comfortable shoes. The Billy Jean King National Tennis Center is huge. While heels would look cute, they probably aren't very conducive to comfort during a long day on your feet. While sitting up high in the big stadiums is great, I had more fun wandering by all the less prestigious courts and watching the action up close.
Prepare for any kind of weather. New York in early September can be hot and humid or cool, wet, and windy. It could be all these things in one day! A shawl or light sweater is a good idea, as is dressing in layers. It was 93 degrees and absurdly humid when I went!
Get there early. For most days at the US Open Tennis tournament, the gates open as early as 9:30 a.m. To get seats in the court you want to watch get there early! You can also have time to check out the souvenirs and eat before the matches begin.
Avoid driving. Public transportation is super easy and quick. The National Tennis Center is only 20 minutes on the 7 train to Flushing from Times Square.
There are lockers available.  Use them for storing bigger bags or anything else you might need. Since I was heading to the airport directly from the US Open, it was great to be able to pay $5 and have them store my bag for me. Lockers are located on the boardwalk outside of the East Gate and a baggage check is located outside of the South Gate of the USTA Billie Jean King National Tennis Center.
Upgrades may be available. Ticket holders may upgrade their tickets at the Ticket Upgrade Windows for an additional cost.
Line-up is luck of the draw. The US Open Tennis Championships is an elimination tennis tournament. Due to this fact, the draw for each day will not be announced until the night before each match. It is not possible to purchase tickets in advance for a specific player. Tickets are sold on a session-by-session basis.