Six Flags Over Georgia rides have become some of the most enticing attractions in the Atlanta area for families. With updates, renovations, and improvements in nearly all areas of the park, the park is truly a destination everyone can enjoy and is worth the admission price (though there are always discounts so definitely look for them first). We love Six Flags Over Georgia rides and now there is so much more to love!
 New Six Flags Over Georgia Rides in Bugs Bunny Boomtown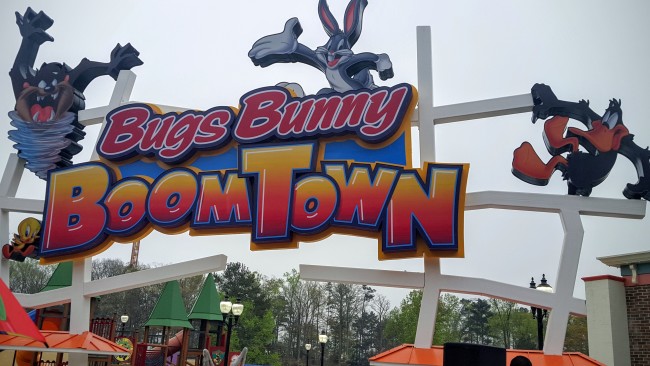 Six Flags Over Georgia has expanded and re-themed the children's area to Bugs Bunny Boomtown. There are now seven attractions, including an interactive water ride that will get you SOAKED which the whole family can ride. There are also twisting swings, flying ships, a junior Ferris wheel, a climbing playground, a truck-driving adventure, and an up-and-down drop tower.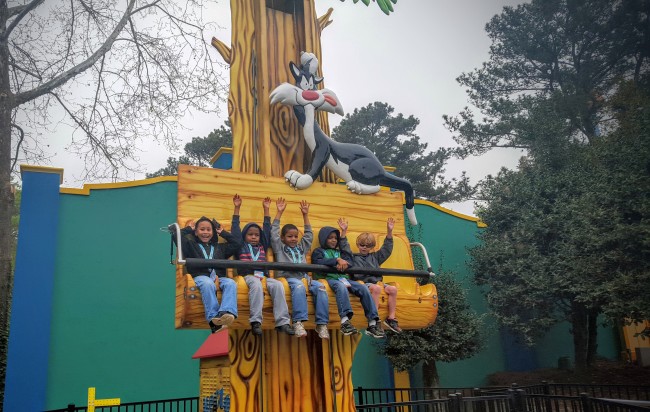 Most of these Six Flags Over Georgia rides in Bugs Bunny Boomtown are for the littlest ones in your family and some have a maximum height so if you have kids of varying ages/heights, plan accordingly. Bugs Bunny Boomtown is now open.
New Six Flags Over Georgia Rides in DC SUPER FRIENDS Area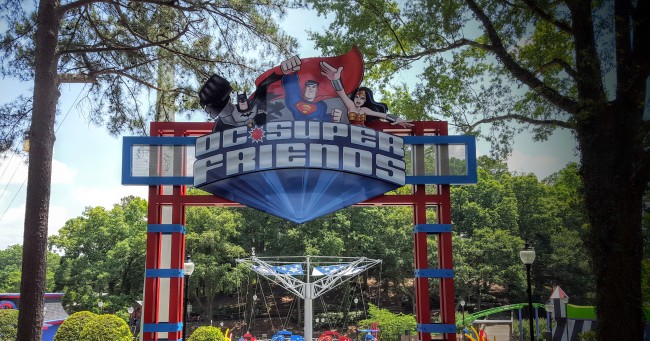 The DC SUPER FRIENDS area is adjacent to Bugs Bunny Boomtown and is the perfect spot for families who's youngest has reached the magical 36 inches height. The rides are fun for the whole family (moms and dads can ride them too!) but are not quite as scary as the big roller coasters or other more adult-themed rides throughout the park. The area is now open!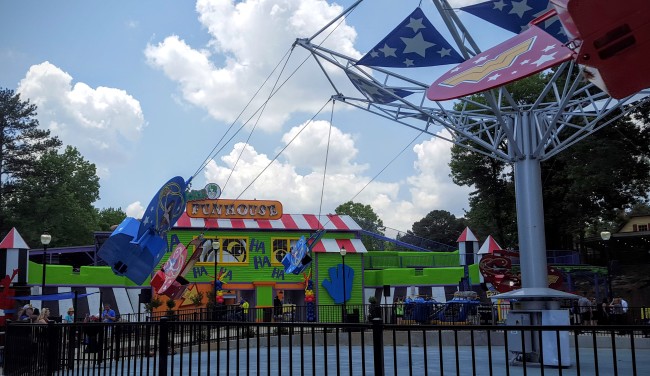 The all-new DC SUPER FRIENDS area features five exciting rides and attractions, including:
SUPERMAN Tower of Power, a free-fall type attraction releasing the dare devil in thrill-seekers of all ages to take on this 65-foot tall bouncing thrill ride.
The BATCOPTERS, a mellow ride for the youngsters, giving them the opportunity to help save Gotham City by flying high in the sky.
WONDER WOMAN Flight School, where pilots can earn their wings by flying their own jet swinging high around the area.
HARLEY QUINN Games, filled with fun games to test your skills. These games are an additional purchase but they are in a shaded area which is nice on those hot days.
THE JOKER Funhouse Coaster, the supreme family thrill ride named after the ultimate Super-Villain, featuring 900 feet of track, speeding at 30 miles per hour. My 4 year old who is a bit timid and my 9 year old thrill seeker both loved it!
Six Flags Over Georgia is a great destination to add to your list when you are traveling to the Atlanta area or if you live here and are planning a summer staycation. Hurricane Harbor, their impressive water park which is a destination onto itself, is also now open. Enjoy!