The 68th annual Macy's Lenox Square Great Tree Lighting has moved. Instead of being on Thanksgiving night, as it has been for over 50 years, it is now on Sunday, November 22. The date may have changed but the show will still be as great as ever!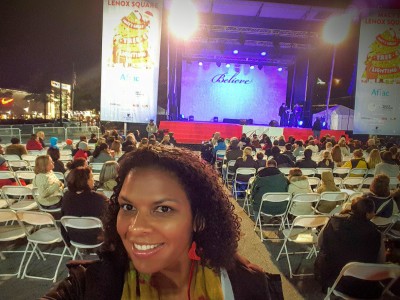 Thanks to WSB-TV, I was able to get behind-the-scenes of the rehearsal of the Tree Lighting and…WOW! This is not your average Christmas tree lighting. It will be a highly-produced show full of celebrities singing some of your favorite holiday classics as well as new Christmas songs you are sure to love too.
Celebrities include Jordin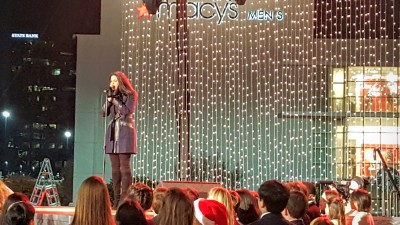 Sparks, Danny Gokey (from my hometown of Milwaukee, dontchaknow), and the contemporary Christian band, Mercy Me. There will also be choirs that will just blow you away. The Sarah Smith elementary school chorus was as cute as they were good.
You can see all this amazing talent in person (the tree lighting is free and open to the public of course) or you can watch it LIVE on WSB-TV starting at 7pm.
Tips for attending the Macy's Great Tree Lighting:
Go early. It will be packed. There is an area directly behind the roped-off VIP area where you can set up chairs. It's first come, first served though so get there EARLY.
Don't drive. Can you Uber? Take the train? Walk? If you have any opportunity to get down to the Tree Lighting without a car, take it. Parking will be crazy. If you do drive, go hours early and walk around the mall or have lunch/dinner to snag a spot before most of the crowd gets there.
Obey the parking signs. Police and private security will make sure you are not parking illegal. So just don't do it. You can't park in the Shoppes Around Lenox unless you buy something. Since there are usually spots over there though, think about doing some shopping in Crate & Barrel or American Apparel or another boutique so you can legally park there. (You do actually have to buy something though.)
The pre-show starts at 6pm. While the Tree Lighting will air on WSB-TV starting at 7pm, don't get down there late. You'll miss some of the great performances!