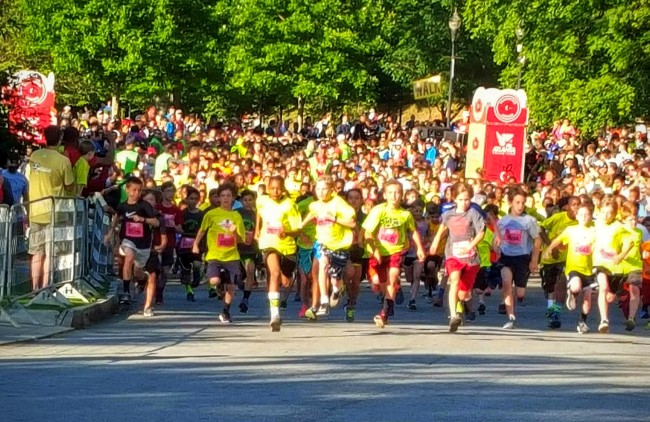 Dan O'Brien is one of my favorite athletes of all time and this weekend I was on the same field as him! He was a special guest at the Blue Cross Blue Shield Peachtree Junior race on Saturday. My kids ran the 3K, 1/2K, and 50m dash and I ran around like a mama duck trying to find her ducklings all morning long. It. Was. GREAT!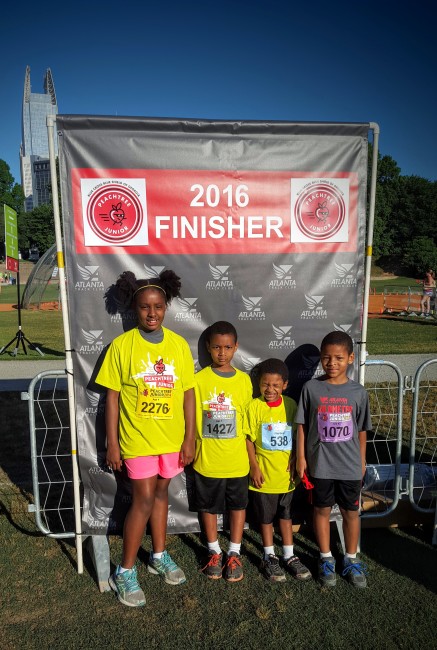 One of the highlights of the Peachtree Junior, was getting to be in the same vicinity as Olympic gold medal champion, Dan O'Brien. I can relate to him in many different ways. As a former Division I basketball player and a 4-year Varsity track competitor, I can relate to his athletic prowess. As an adopted biracial child who grew up with a White family and community, I can relate to his upbringing. And as someone who has worked hard on focusing on getting up after each time I'v fallen, I can relate to his resilience. The 1996 Olympic decathlon gold medal winner has an inspirational life story I'm glad he is willing to tell. I'm thrilled he came to inspire the kids (and the parents!) at the Blue Cross Blue Shield of Georgia Peachtree Junior race this past weekend!
Start of the ½K for kids ages 5-9! @ATLtrackclub #PeachtreeJunior pic.twitter.com/M21p8rZ2nW

— Dan O'Brien (@DanOBrien) May 14, 2016
Who Is Dan O'Brien?
Dan O'Brien is often remembered for being part of one of the Olympic's greatest failures when he "no heighted" in the pole vault during the Olympic Trials in 1991. There had been a huge marketing campaign pitting Dan against Dave Johnson to hype viewers up for the Barcelona Olympics and when he failed to even make the team, NBC, Reebok, and Dan himself was devastated. But he didn't quit. He didn't stop training or wallow in self-pity. He went to Barcelona in 1992 to cheer on his friends and teammates. And then he came back in 1996 to win the gold medal in Atlanta!
Dan O'Brien is still involved in the sport by commentating occasionally and working with young athletes from the gym he owns in Phoenix, Arizona. Atlanta families were lucky to be able to come out to the Blue Cross Blue Shield of Georgia Peachtree Junior to meet Dan and get some tips and tricks from one of the greatest athletes of all times. There was even a kid-sized decathlon set up so kids could get an idea of all ten of the track and field competitions involved in the grueling series of events. So cool!
More about the Atlanta Track Club and the Peachtree Junior
The Blue Cross Blue Shield of Georgia Peachtree Junior is an event held each year for kids aged 14 and under. The event was held at Piedmont Park in Atlanta this year, and featured a 3K fun run for kids ages 7-14, a 1/2K for ages 5-9 and 50m dash for ages 6 & under. The event is designed to offer kids the experience, excitement and prestige of the AJC Peachtree Road Race and give them an outlet to try running. Missed the Peachtree Junior but want to get your kids into running? Check out the Atlanta Track Club this summer. They have weekly "All Comers" track meets throughout the Spring and Summer. Dust off your own shoes too. Kids AND adults are all welcome at these free events held at Emory University.
Check out what Kim Smith from 11Alive labeled as the "cutest 50m dash ever". (And yes…that is me and my youngest on the far right!)
The cutest 50m race ever! @ATLtrackclub @11AliveSports #PeachtreeJunior pic.twitter.com/1vegiTIq7h

— Kim Smith (@KimSmithTV) May 14, 2016