Yes! I got to go behind the scenes at The Dr. Oz Show! I can't even play it off…it was really cool! I was one of two really lucky bloggers to go with WSB-TV to New York as part of their parent influencer group.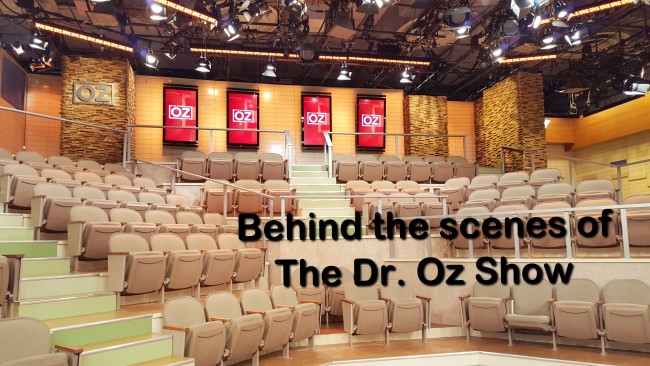 We were only in NYC about 36 hours but boy did we get a lot in. In addition to sitting in on two tapings of The Dr. Oz show, we got a chance to watch the extensive rehearsals he does before every show. He really wants to get everything right!
We were able to hang out backstage and poke around the set and the rest of the studio that normal audience members don't get a chance to see. Don't worry…I didn't bring anything home with me!
We sat in on two tapings and I even got to answer a question during one of them. He asked if anyone in the audience had gained some "happy weight" while being in a good relationship. Umm…yes!
After the tapings were done, we got a chance to talk with Dr. Oz himself for a few minutes. This man stars in a talk show and is a heart surgeon on his "days off". He really is amazingly smart but the thing that stuck with me the most is that he is genuinely nice!
Season 7 of The Dr. Oz Show starts September 14!
It was especially cool to see tapings of The Dr. Oz Show because we got a preview of their brand new season!  Season 7 starts Monday, September 14! (In Atlanta, The Dr. Oz Show can be seen on WSB-TV at 3 p.m. Check your local listings for the channel and time in your city!) The premiere show on Monday is about how to channel the superhuman in you! They will be showcasing ordinary people who did extraordinary things in order to save a life. There's even a 5 year old who saved her own family! And they are also covering the thing I am guilty of doing all the time…self-diagnosing myself via Google. I'll be tuning in to check out their "5 clicks to a better health search" for sure.
During season 7 of The Dr. Oz Show look for lots of opportunities for audience interaction, both the audience in the studio and the audience at home. There will be a big social media push with hashtags for almost every segment to let fans interact with The Dr. Oz Show and with each other. It's going to be a fun, fast-paced, energetic season with a focus on finding your balance blueprint. Dr. Oz's goal this season is to help all of us go from burn out to balance. I like that idea!!
Want to see Desiree's take on our trip to see The Dr. Oz Show? Head over to Stressfreebaby.com to see her account. And if you missed it, also check out my bucket-list-fulfilling side trip to the US Open Tennis Championships while I was in New York. Such an amazing two days. Look out for my behind the scenes post on Good Morning America next!