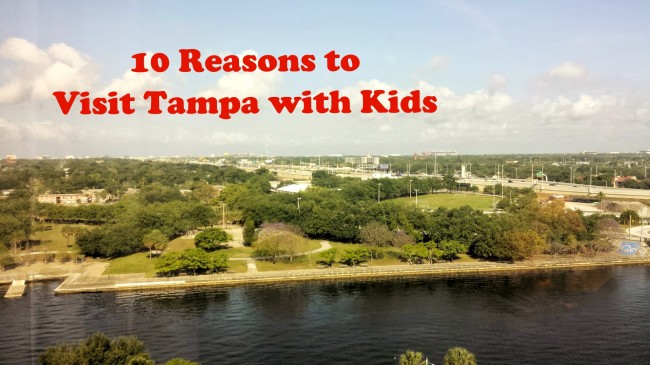 During Spring Break this year, my family and I went somewhere we had never been before: Tampa, FL. We have spent lots of time in Central Florida visiting the attractions there like Walt Disney World and Universal Studios, but have never ventured a bit west to Tampa. And boy have we been missing some great fun!


My family of six (with kids aged 8 to 2) spent three days exploring, eating, and splashing our way through Tampa. I'll write more in the future about some of these attractions but I wanted to share the highlights with you right away.  As you are thinking about your summer family travel plans, here are the 10 reasons I found to visit Tampa with kids:
Busch Gardens. Roller coasters. Snapping alligators. Amusement park games. Exotic birds. I could go on and on. There is truly something for everyone at this multi-faceted theme park. My only disappointment at Busch Gardens? We only had one day there.
Glazer Children's Museum. Do not miss this museum. The Glazer Children's Museum is three floors of active, hands-on fun for kids aged 10 and under (though older kids can find things to do here too). You can easily spend half the day here.
Florida Aquarium. While many varieties of fish, alligators, and mammals are showcased in this homey aquarium, the real showstopper at the Florida Aquarium is the outdoor pirate-themed splash grounds. Parents can sit on shaded benches while children have a ball getting soaked and burning off lots and lots of energy.
It's a walking city. Park your car at your hotel and walk to where you're going. We stayed at the conveniently-located and budget-friendly Barrymore Hotel on the Tampa Riverwalk and walked to the Glazer Children's Museum and Water Works Park easily. Don't want to walk too far? Ask if your hotel has a shuttle. The Barrymore had a complimentary shuttle that ran almost non-stop.
Spray grounds galore. We all know Florida is hot and the city of Tampa is prepared for it! I loved the various spray grounds (or playgrounds with water features) they have throughout the city, giving children the opportunity to cool off while they are letting some steam off.
Welcoming city. As a family of color, it is important to my husband and I that we aren't the "only ones" when we go on vacation. I found Tampa to be very diverse, open, and welcoming to everyone. Local blogger, Marisa from TampaMama.com even came out to meet us and brought us a box of GoGoSqueeZ!
The Riverwalk. Whether for a lovely walk before breakfast or a sunset stroll after dinner, the Tampa Riverwalk is both beautiful and useful. Get out there and take advantage!
Outdoor free events. Since attractions can sometimes cost a lot of money, free activities are great. The Tampa Bay area has many of them including those at Water Works Park on the Riverwalk. Water Works park offers free family-friendly concerts, movies, and other activities throughout the year.
Sports teams. Though Tampa is not a huge city, it boasts a NFL team (Tampa Bay Buccaneers), a NHL team (Tampa Bay Lightening), and a MLB team (Tampa Bay Rays). The area is also host to six MLB Spring Training camps. If you want to go to a game, chances are they have one for you!
Diverse accommodations. While we stayed at the recently renovated Barrymore Hotel, there are a plethora of other hotels in the same Riverwalk location. The Embassy Suites Downtown Convention Center is a great option for families with two-room suites and a hot complimentary breakfast.
While you think about your summer travel plans, I recommend including a trip to Tampa. It has a little off-the-beaten-path feeling about it that is comforting and exciting at the same time. Don't miss out!