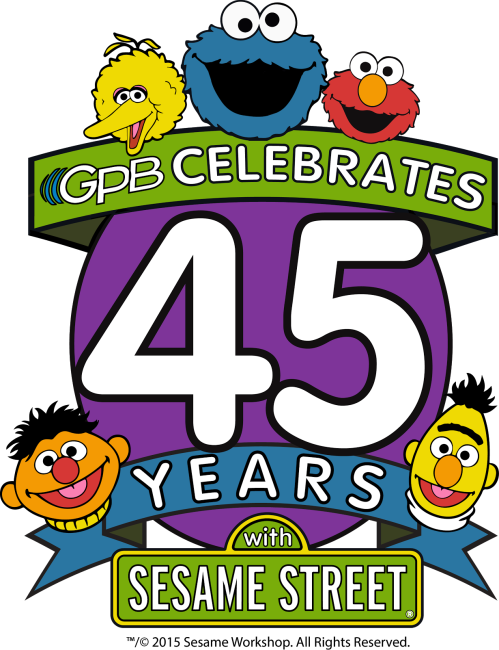 "I am a member of the Everywhere Society and Everywhere has provided me with compensation for this post. However, all thoughts and opinions expressed are my own."
Atlanta friends!  Come hang out with me on Saturday, January 24 at the fabulous Fernbank Museum to celebrate the 45th anniversary of Sesame Street, arguably the best kids' show EVER on TV. Join Fernbank and Georgia Public Broadcasting for a whole day of special events, celebrations and even get in some time with a VIP…Cookie Monster!
Most of the activities will take place between 10 a.m. and 2 p.m. on January 24, 2015. The activities are free with admission to the museum. Museum admission costs are $18/adults, $16/children, and children 2 and under are free. You can skip the lines at the museum (which can sometimes be long) and buy tickets online, though you will be subject to a surcharge.
The Sesame Street Celebration will include:
123 Sesame Street Photo opportunity. (10am-2pm in the Great Hall) Come and have your photos taken in front of the famous brownstone wall, one of the most iconic show props on TV.
Happy Birthday sing-a-long. (12:30 Great Hall). Join Cookie Monster in singing a rousing edition of Happy Birthday to Sesame Street.
Arts, Crafts and Activities. (10am-2pm in the Great Hall). Use macaroni to make your very own macaroni dinosaur.  Go home with temporary tattoos of your favorite Sesame Street characters, and try your hand at the various games in the game station.
Story time. (10am-2pm in the Naturalist Center). Enjoy children's stories from local authors.
Costume contest. (12 noon in the Great Hall). Dress your kids (or you…I won't judge) in your Sesame Street best and compete for a show-themed prize during the costume contest.
Haven't been to Fernbank Museum?  You are missing out! At Fernbank Museum you can meet the world's largest dinosaurs, explore the development of life on Earth, connect with cultures from around the world, and  engage in numerous hands-on exhibitions. My family's favorite part of Fernbank Museum is Fernbank NatureQuest, which is a multi-level interactive clubhouse where all my kids can run, climb, crawl, and play to their heart's content!
So, will you join me celebrating 45 years of Sesame Street at Fernbank Museum?