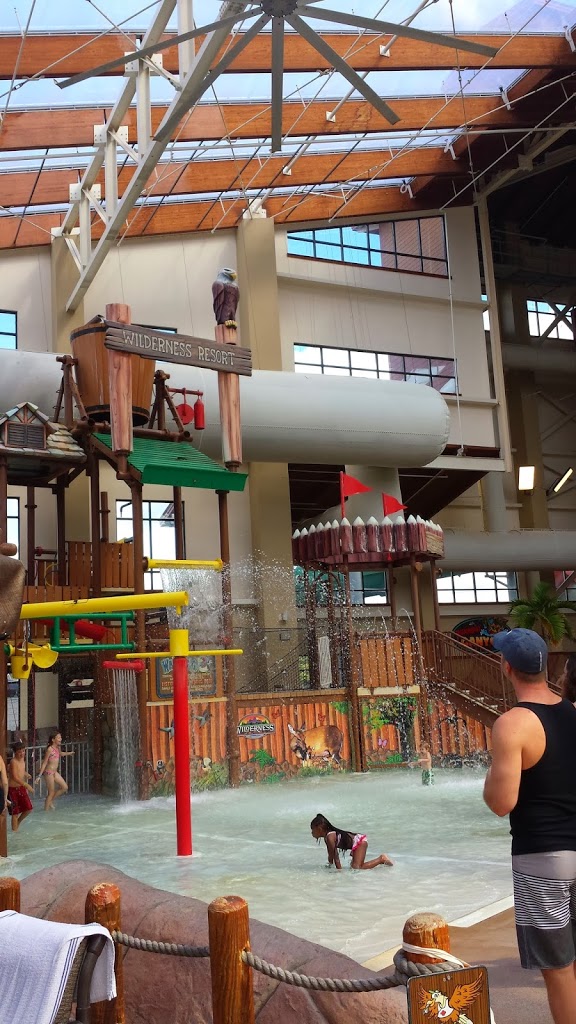 Wilderness at the Smokies Waterpark Resort and Family Adventure Center is Tennessee's largest indoor waterpark and my family and I were thrilled to be invited to come check it out for this review. Our room and some meals were complimentary but of course that didn't sway my opinion. And my opinion is that Wilderness at the Smokies is a value-packed, memory-making type of place, totally geared for families. My crew loved it! It was cold and rainy when my family headed up to Wilderness at the Smokies but it didn't matter! We never had to take the kids outside! Keep reading to enter to win a FREE family trip for yourself!!
Since I had never been to the Wilderness at the Smokies Waterpark Resort, I
didn't know what to expect. You, my friends, don't have to worry about that.
Here's my top 10 list of things you need to know before you head up to Wilderness at the Smokies:
Wear sunscreen. The see through roof is designed for year round sun bathing. Be prepared with sunscreen and sun glasses.
Pack warm clothes. Sure it's a balmy 80 degrees in the Waterpark but it won't be when you head out for dinner or to catch some entertainment in Pigeon Forge it is a lot colder than Hotlanta.
Bring food and drinks into the room (NOT the Waterpark). Our room had a fridge (with a freezer) and we had a couple meals just hanging out in the room. This is obviously a money-saver! Don't try to sneak food into the Waterpark though. You just look cheap…and you'll get caught.
Don't forget the dry activities. Check out the 3-story ropes course and the mega arcade! And the Cubs Climbing Den Interactive Play House is FREE for resort guests. They even have an area for the three and under crowd! My kids loved this! There is also a fitness center, mini golf, and a paint your own pottery studio.
Let the kids try surfing. I wasn't going to let the kids try the surfing area, I thought it looked dangerous, but after a lot of begging and pleading (and watching other kids do it), I caved. And I'm glad I did. They had a BALL!
Don't be afraid to go off the "reservation". There's tons of family fun in Pigeon Forge!
Go with a group. This resort has River Lodge Multi-Room Suites that can sleep up to 15! Get some friends together or make it an easy family reunion. Have a fun slumber party in comfortable surroundings with built-in entertainment!
Don't joke around about the Volunteers. These University of Tennessee folks are serious about their football. #JustSayin
Stay one night, play for two days. Take advantage of two full days of activities with only paying for one night's accomodations. Pre-register as early as noon and enjoy all the activities while your room is getting ready. (Check in time is 4pm.) And while check out time is 11am, guests are free to use the Waterpark all day. There are locker rooms, showers and towels provided for you in the Waterpark.
Like their Facebook page for great deals! Look out for amazing one day specials!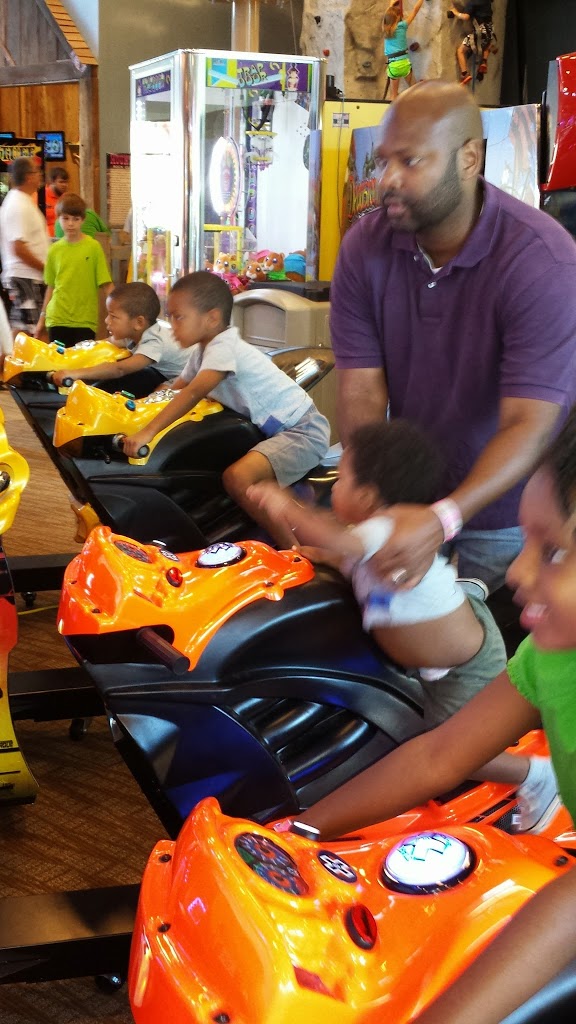 Want to win a stay for your family? One winner will be chosen to win a one-night voucher to Wilderness at the Smokies in Pigeon Forge, Tennessee for up to 4 people. Additional people may be added at an additional charge. Also,
additional
nights can be added at the winner's expense.