I was furnished with tickets to Free Birds and coupons to Chuck E. cheese to facilitate this review. No opinions were swayed by the fun family day.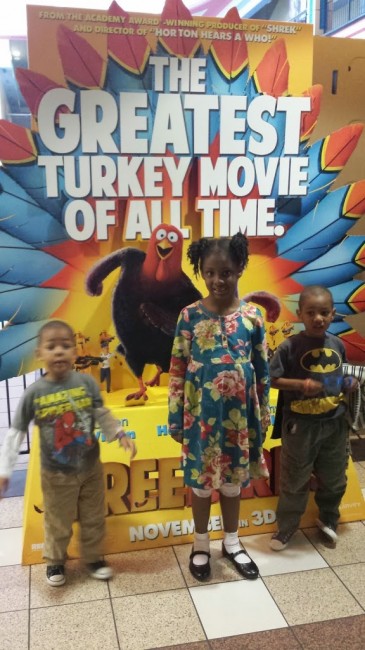 On a crisp Fall afternoon this past weekend, I became SUPER MOM. I took my oldest three kids and we had a movie date to see "Free Birds". I even sprang for the 3D option. (I'm so nice, right?). And if that wasn't enough, I took them to Chuck E. Cheese afterwards for pizza and games. If I don't win Mom of the Year for that day I don't know what will. The kids loved the movie and had a blast at Chuck E. Cheese. And truth be told, I had fun too. (Shhh…)
Free Birds is the super cute and seasonally appropriate movie about how two ragtag turkeys try to take turkey off the Thanksgiving menu. The buddy comedy stars pizza-loving Reggie, voiced by Owen Wilson, and Jake, voiced by Woody Harrelson as a turkey tag-team who go back in time to Plymouth Rock to stop turkey from being the main dish at the feast between the pilgrims and "Indians". (Though I espouse using the word "Indian" it would have been difficult to be both historically accurate and racially sensitive.). This movie has some adult-aimed humor but it is first and foremost a kid movie. It is a great one especially for younger kids who scare easily. It also happens to be Chuck E. Cheese's big-screen debut!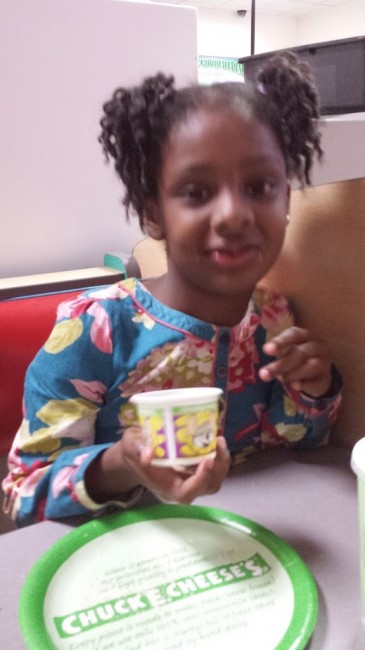 Chuck E. Cheese's locations will feature exclusive Free Birds merchandise and activities as part of the
company's fall in-store promotion. From collectible
Rock-N-Wristbands
available with any pizza purchase deal to printable activities for the kids, there are lots of fun and exciting activities surrounding the partnership!
"Free Birds" and Chuck E. Cheese's Activities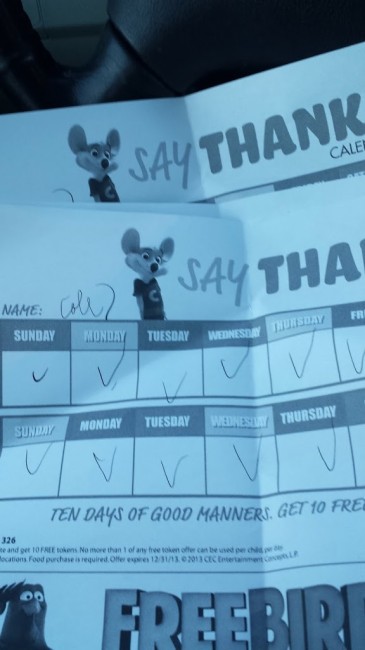 If you're in need of some indoor activities for your little turkeys as the weather gets cooler, check out these Free Birds inspired connect the dots, word search, maze and coloring sheets from Chuck E. Cheese's. Additionally, with the help of special "Free Birds" and Chuck E. Cheese's Rewards Calendars, if the kids set – and stick with – new fall goals like gobbling up those veggies andsaying thanks, they can receive 10 free tokens for their hard work when completed. You save money and get them to do what they are supposed to do. That's not bribing by the way…it's called darn good parenting.
Want to have your own Free Birds and Chuck E. Cheese date? Enter below!