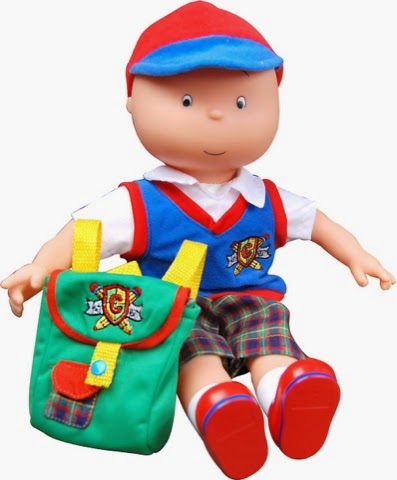 Do you have a child who can't get enough of the PBS show, Caillou? You know who I'm talking about. It's the theme song that will stay in your head all day. "I'm just a kid who's four but each day I grow some more. I'm Caillou…". Now your child can get their fill of Caillou wihout turning on the TV. The Caillou Talking Doll was just released in stores April 1.
Caillou is an award-winning educational television programming for kids. It has consistently ranked in the top 10 TV series for preschoolers since it debuted in 2000. The Caillou Talking Doll lets children continue the fun they have with the TV with a whole new level of interaction. The doll offers ten educational interactions mean to spark children's creativity, including two easy French words to learn and say. (I hope they are "oui maman".)
The Caillou Talking Doll will have a fresh new look for this world renowned character, with bright new school gear including a removable backpack and hat.
Caillou
apparel, books, home video and other merchandise are also sold online and in mass and specialty retail stores nationwide
The Caillou Talking Doll will retail for $34.95 but you don't have to wait to get one. Just enter the giveaway below for a chance to win a brand new Cailou Talking Doll for yourself!