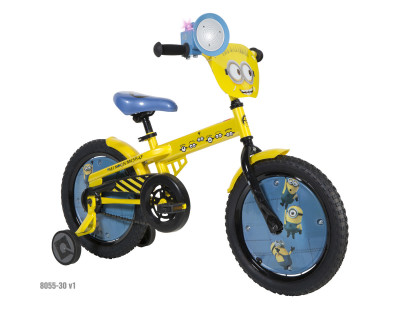 Want to win a Dynacraft Minions bike for your 4 to 8 year old Despicable Me 2 loving kid? Why wouldn't you?!? Especially when the bike comes from Dynacraft, known for creative products that are well-built and long-lasting! One of their newest products is the Minions Bike that features a fun Minions shield and the bike accessory of the year…the Fartblaster noisemaker. (You know you want to hear what THAT sounds like!)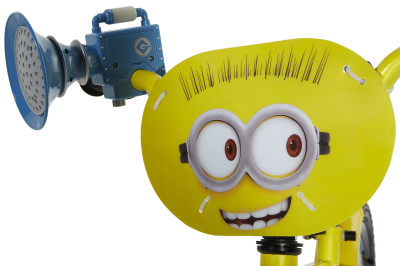 Over its 30 years as a leading bike distributor, Dynacraft's mission has been to create products that join the worlds of technology, innovation, and fashion to delight both kids and parents alike. They believe in getting bikes out of the garage and actually using them!  The smart team at Dynacraft spent a good deal of the summer visiting cities with the Experiments in Fun campaign. They put together some easy but really innovative events that got families out on their bikes ore scooters and having fun with each other.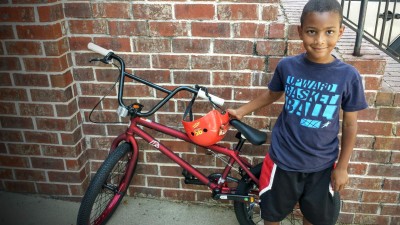 This summer my own family got in some great bike time. Both my 6 and 8 year olds can now ride a bicycle!  The swell of pride I felt when my daughter kept peddling down the street and didn't fall over is hard to describe. Unfortunately too many kids these days don't know how to ride a bike. I'm trying my best to change that with my four kids though. My kids mastered bike riding to such an extent that they even competed in a Kids Triathalon!  My son was lucky enough to be able to use his new Dynacraft bike while competing and I have no doubt that the well-manufactured speedy little bike shaved minutes off his time. Despite the thunderstorming rain, both my kids finished!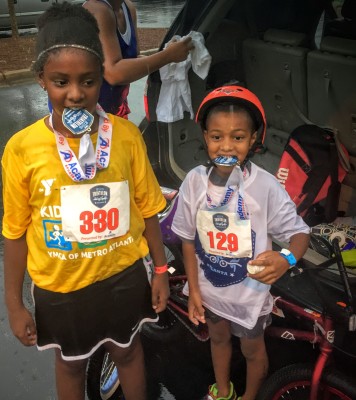 Want to win a Minions Bike for your own child?
Just enter the giveaway below between now and September 2 and a winner will be picked on September 3. The winner will receive a 16 inch Minions Bike which comes complete with adjustable training wheels, quick release seatpost, and a solid steel frame. This bike can be found at Wal-Mart and Toys R' Us and retails for about $90.
Want to know about Dynacraft? Here are 5 things you ought to know.
Dynacraft has been around for 30 years bringing wheeled goods to consumers.
The company is committed to encouraging families to get out and ride more  on wheeled goods.
Most of their products feature an innovative feature that brings "joyous surprise" to their customers – the Fart Blaster on the Minion Bike or the Water Cannon on the Spider-Man Dune Buggy, etc.
The company's useful website is designed for parents. It has assembly videos, measurement guidelines, safety tips to share with your kids and soon a contract that parent can sign with their kids with customized "bike road rules".
As part of its re-launch the company created the Experiments in Fun Campaign this summer. This series of free, whimsical events encouraging families to get out on their wheeled goods and have some fun. Check out the Dynacraft "Ride in" Theater event that happened in Atlanta's Piedmont Park: