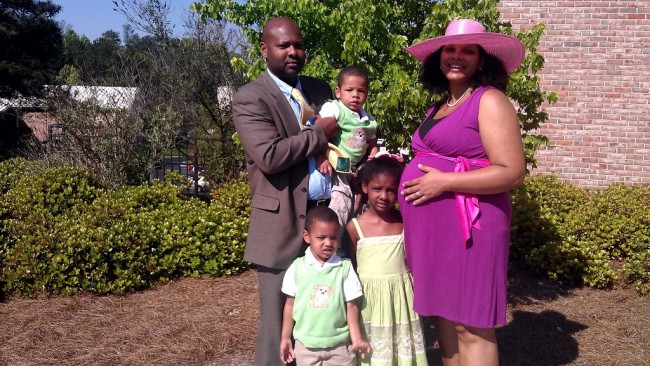 Our Easter photo this year.
The NBC Nightly News crew asked me yesterday why I became a stay-at-home mom and I was a bit stumped. I feel like this "job" chose me…and I'm so glad it did. It's like I am living a life I didn't know I wanted until I got it. Now, I can't imagine life any different.
When I moved to Atlanta with my then-fiance (now husband) I was on hiatus from a TV show I was producing. I didn't want to jump into anything else right away so I thought I'd take some time off to plan our wedding and dabble in PR a bit. When I came home from our honeymoon pregnant, it seemed like fate that I didn't have a job to report to. Sure we could have used the money but now that I was nurturing a life inside me, I couldn't imagine going back to the crazy world of TV journalism and leaving my child in daycare. That works for a lot of women, but it wasn't the life I wanted for myself. And then when baby #2 came 17 months later, and baby #3, 17 months after that, it only made sense to keep staying at home. Do you know how much it costs to put three kids in day care???!!???
My husband and I have had to make a lot of sacrifices because of our decision to have me be a stay-at-home mom. We are a one-car household. We will have 4 kids in a 3 bedroom house. We don't eat out very much and I clip coupons to save on groceries. We buy second-hand clothes for the kids and don't get to see my family in Wisconsin or Arizona as much as I'd like. My clothes mostly come from the sale rack at Target. My husband just doesn't buy himself anything new at all. But that's OK with us. I don't feel like I'm losing out or missing anything. I've gotten creative when it comes to saving money and am still giving the kids some great experiences. And they will only be young once.
I'm very lucky to have a hard-working, understanding and helpful husband who supports me as a stay-at-home mom. I know not everyone has such a great partner. As we ready our house and our lives for baby #4 next month, I just feel really blessed that my life has turned out like this. When I lived in a downtown Chicago high-rise, a TV producer at Oprah by day and single-in-the-city girl by night, I could have never imagined my life would feel so complete in a crowded home in Atlanta's suburbs. I am a lucky girl.
Why did you make the choice you made?