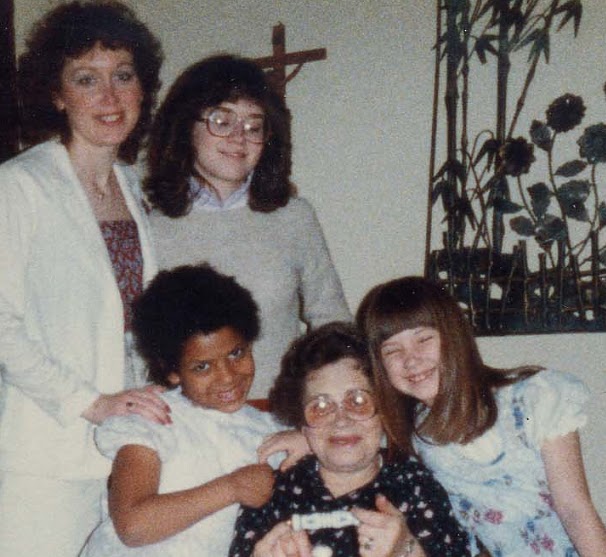 My mom, grandma & sisters & I circa 1982
I'm adopted. It's not hard to figure that out when you look at a picture of my family. I was in the foster care system for about three months until my parents welcomed me into their family. (Their second adoption in 18 months.) Since I have such a personal connection with adoption and the foster care system, I was so excited to be invited by the non-profit, Faith Hope Adoption, to their Best Desserts fundraiser. (Ok…I was excited about the dessert part too.)
Faith Hope Adoption is an organization that helps children who are available for adoption right now find forever families. They break down the adoption process that sometimes can seem overwhelming to potential parents. Did you know that an adoption can take as little as 9 months? That it can cost as little as $0? That even non-married men and women can adopt? It's true! Faith Hope Adoption helps to cut through the red
tape and answer all the questions adoptive parents might have. They provide the tools and support to make each adoption a success story, no matter what type of adoption and no matter where the prospective parents are in the adoption process.
Their fundraiser, 2013 Best Dessert Atlanta, was a gathering of some of the cities movers and shakers (and me) at the
Porsche dealership
in Roswell, GA. There were six fabulous pastry chefs serving up their best creations in order to win the title of Best Dessert Atlanta. Everything was SO good! The "Celebrity" winner was the chef from
Seed Kitchen & Bar
for a Chocolate Peanut Butter Parfait. (I forced myself to have two just to make sure it was as good as everyone said. ) The "People's Choice" favorite was a delicious Blood Orange cheesecake from
4th & Swift
.
To top off the fabulousness of the night, the MC, Dolvett Quince, arrived in fantastic style…in a helicopter! The trainer from NBC's "Biggest Loser", Dolvett is probably not used to being in the company of so much sugar but his smooth personality worked the room like the pro he is. As somone who was in the foster care system, he seemed genuinely happy to be using his time and talent to further the cause of Faith Hope Adoption. I love when celebs give back!
Photo courtesy of: Kent Ruby; Dolvett & the Grey Goose ambassadors
Disclosure: I was given complimentary admission to this event but all opinions are my own.