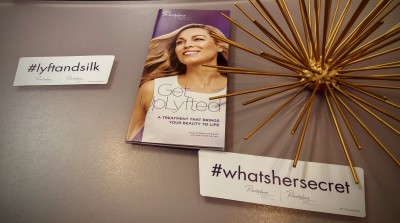 I recently attended an event sponsored by Gladerma to help educate those of us gathered on the uses of Restylane® Silk and Restylane® Lyft. Don't know what those things are? I didn't either! To help give you some more information about this process and what it can do for you, check out my Restylane® guide below:
What is Restylane®?
Restylane® Silk is the first FDA-approved product specifically designed for lip enhancement and the smoothing of wrinkles around the mouth in patients 21 years of age and older. Get more information at RestylaneSilk.com.
Restylane® Lyft is the first and only FDA-approved filler for cheek augmentation and the correction of moderate to severe smile lines (nasolabial folds). It can provide lift to cheeks and smooth smile lines. Get more information at RestylaneLyft.com.
Who uses Restylane®?
I had no idea how common these procedures are these days! Women (and men) over 21 years old can use Restylane® products, though women in their 30's, 40's, and 50's are prime candidates. Many people use Restylane® Silk to smooth the wrinkles around their mouth and Restylane® Lyft to add volume in their cheeks. Doctors can do these pretty simple in-office treatments to make a remarkable difference in a short amount of time.
Why might you want Restylane®?
If you look at your face and notice a thinning of your lips and strong indention in your cheeks AND it bothers you, then Restylane® Silk, Restylane® Lyft, and a licensed doctor might be able to help. If you see it and it doesn't bother you? Good for you. For most people though, the lips and the lines around the mouth show signs of aging they would rather not show. The aging process often results in lip thinning, lost shape and an increase in vertical lines above the lip. Restylane® Silk is designed specifically to provide natural-looking results in these particular areas by using smaller, smoother particles than those used in other Restylane® products.
Do Restylane® products really work?
Restylane® Silk and Restylane® Lyft are FDA-approved and are used frequently by doctors throughout the country. There have been clinical studies of patients treated with Restylane® and they have reported fast-acting, long-lasting results. In patients treated with Restylane® Silk, 98% reported a visible improvement in lip fullness 14 days after injection. 76% of these patients still had lip improvement six months after the injection.
Note: As with any other hyaluronic acid gel injected into the lips, the most common side effects include swelling, redness, pain, bruising or tenderness. Please see below for Important Safety Information for Restylane® Silk.
Thinking about seeing if Restylane® could work for you? If it does, you may want to check out the ASPIRE Galderma Rewards program, to earn extra benefits when using Galderma aesthetic treatments. Each new member receives a $20 Treatment Certificate which can be applied toward his or her next treatment. Learn more here: AspireRewards.com\WhatsHerSecret.
Want to know more? Find a doctor near you to see if the Restylane® products would be a good fit for you. In
Atlanta? Check out Dr. Anna Pare from Atlanta Dermatology Experts. I was impressed with her down-to-Earth demeanor and her goal of helping women to look their best by doing as little as possible.
Important Safety Information
Indications: The Restylane family of products includes Restylane®, Restylane-L®, Restylane® Silk, Restylane® Lyft with Lidocaine, and Perlane®. Restylane, Restylane-L, Restylane Lyft with Lidocaine, and Perlane are indicated for the correction of moderate to severe facial wrinkles and folds, such as nasolabial folds. Restylane and Restylane-L are indicated for mid-to-deep dermal implantation. Perlane and Restylane Lyft with Lidocaine are indicated for implantation into the deep dermis to superficial subcutis. Restylane Silk is indicated for submucosal implantation for lip augmentation and dermal implantation for correction of perioral rhytids in patients over the age of 21. Restylane Lyft with Lidocaine is also indicated for cheek augmentation and for the correction of age-related midface contour deficiencies in patients over the age of 21. Restylane and Restylane-L are also indicated for submucosal implantation for lip augmentation in patients over the age of 21.
Products in the Restylane family contain traces of gram-positive bacterial protein and are contraindicated for patients with allergies to such material or in patients with severe allergies that have required in-hospital treatment. These products should not be used by patients with bleeding disorders or by pregnant or breastfeeding women. Restylane and Restylane-L for lip enhancement and Restylane Silk should not be used by people under 22 years. Restylane-L, Restylane Silk and Restylane Lyft with Lidocaine should not be used by anyone with a known allergy to lidocaine. Products should not be injected anywhere except the dermis, superficial subcutis (Perlane and Restylane Lyft with Lidocaine only), or lip submucosa (Restylane, Restylane-L, and Restylane Silk only).
Use of products in the Restylane family at the site of skin sores, pimples, rashes, hives, cysts, or infection should be postponed until healing is complete. The most commonly observed side effects are swelling, redness, pain, bruising, headache, tenderness, and itching at the injection site. These are typically mild in severity and typically resolve in less than 7 days. Serious but rare side effects include delayed onset infections, recurrence of herpetic eruptions, and superficial necrosis at the injection site. Do not implant into blood vessels. Use with caution in patients recently treated with anticoagulant or platelet inhibitors to avoid bleeding and bruising.
The Restylane family of products is available only through a licensed practitioner. Complete Instructions for Use for Restylane, Restylane-L, Restylane Silk, and Perlane are available at www.RestylaneUSA.com. Complete Instructions for Use for Restylane® Lyft with Lidocaine is available at www.RestylaneLyft.com