I recently received an email introducing me to the vintage clothing available from Shabby Apple.  I had never heard of their site but after checking it out I was really intrigued.  I will be able to choose a dress for telling you all about their site and I'm really excited to do so!
Vintage clothing brings up images of dusty, old-fashioned clothes I would not usually gravitate to, but the the ones at Shabby Apple are so cute.  They are vintage in a "Mad Men" sort of way…with a Marilyn Monroe/Greta Garbo sexiness.  And by the way, vintage clothing does not mean "used" clothing. These are cute dresses, skirts, pants, and tops in unique styles that look like they will compliment most figures.
I used to think that I didn't have a "vintage clothing" type body, meaning I'm carrying a few extra pounds of baby weight and am tall and athletic.  However, these dresses seem like they will work for me. They even have a "Fit to Flatter" style guide to help women of all sizes find their perfect outfit.  I'm down with that! I am very excited to try one and will definitely report back to you once I receive it!
Most dresses are under $100, (with some under $50!), and the company offers free shipping with any order over $150. And right now they are having a super sale…buy 2 dresses and get a "surprise" dress for free.  How fun! You can also use the code: summersale to get 20% off the whole site!
UPDATE:
Here's the lovely dress I received.  It is perfect for a garden party or tea or any daytime affair.  And it fits!  I added my own belt and dressed it up with some pearls for a completed look.  I am super happy with this dress.  So chic.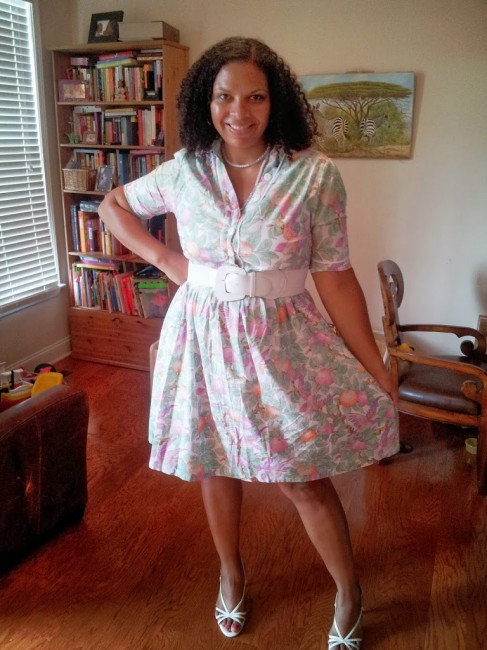 Do you like vintage clothing?  What's your favorite era?