Disclosure: I received complimentary flight to experience Southern Airways. My opinions are my own. 

Posh. That is the best word I can come up with that defines the experience of flying Southern Airways Express.  While their prices are amazingly affordable (my trip from Atlanta Peachtree-Dekalb to Destin, FL cost under $200 round trip) it is similar to flying in a private plane. From the comfortable and upscale waiting lounge, to the personal service (our pilot greeted us at the door of the terminal lobby), to the leather, reclining airplane seats, everything is first class. 
Southern Airways Express flies out of Peachtree-Dekalb Airport, from the Atlantic terminal, which is next to the air traffic control tower.  This was my first time flying out of Peachtree-Dekalb Airport and I was shocked at how easy it made the trip.  There is no fighting with airport traffic.  No TSA screenings. No lines. No parking fees. No baggage fees (though each passenger is asked to keep luggage to under 50 lbs). No hassle! As someone who has missed flights, knowing the pilot was waiting for us was just fantastic.  Southern Airways suggests showing up at Peachtree-Dekalb 15 minutes prior to takeoff. 15 minutes! Quite simply, Southern Airways Express takes the stress out of flying.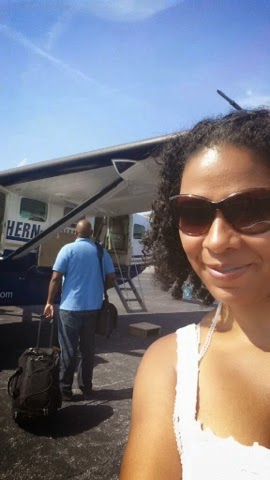 Southern Airways
flies a 10-seat Cessena C208 Caravan with leather seats that recline into the perfect napping position. The best seats are directly behind the pilot as the cockpit is open.  It is so cool to be able to see all the gauges, buttons, and gadgets it takes to fly the plane. [Check out the video to see for yourself.] Though it is a smaller plane than we typically take, I felt totally safe. There was very little turbulence and even the take-off was very smooth, much more so than on a big jet. [On the way back to Atlanta, we did run into some 
turbulence
 and so the flight wasn't quite as smooth.  The captain said to try to sit as close to the cockpit as possible to minimize the effects of turbulence.]  Southern Airways Express flies from Atlanta to Memphis, Destin, FL, and Panama City, FL.
The Southern Airways pilot was informative and didn't mind us asking questions, even during flight. He flies Southern Airways routes 3-4 times every day and seemed completely comfortable with piloting the plane. The pilot even called my cell phone as we were driving to the airport to check in on us and let us know he was ready and waiting. What service!
I can see my kids being enthralled by this experience.  They would be glued to the window (as every seat is a window seat).They would be very interested in what the pilot is doing and how the plane actually works. I MUST bring them on a flight one day.  If you are bringing kids aboard, know there are no bathrooms on board and it can get a bit loud so noise-cancelling headphones might help kids who are sensitive to sound.  There are no flight attendants to provide peanuts and soda, however, you are free to bring whatever you want aboard, including your own drinks.
Southern Airways Express may not go everywhere you want to go just yet, but if you can find a reason, (any reason will do), to go to Destin, FL, Memphis or Panama City, check out Southern Airways to get you there. Want to see how the flight is for yourself?  Click on this short video below: