Veterans Day 2016 is today. It is the time of year when we need to stop the whip and whirlwind of life to honor the brave men and women serving in our military. This year, I had the privilege of working with The Coca-Cola Company on a Veterans Day project to help show my gratitude. Along with hundreds of Coca-Cola employees from the Atlanta headquarters, I helped to fill toiletry bags which will go directly to support troops serving overseas.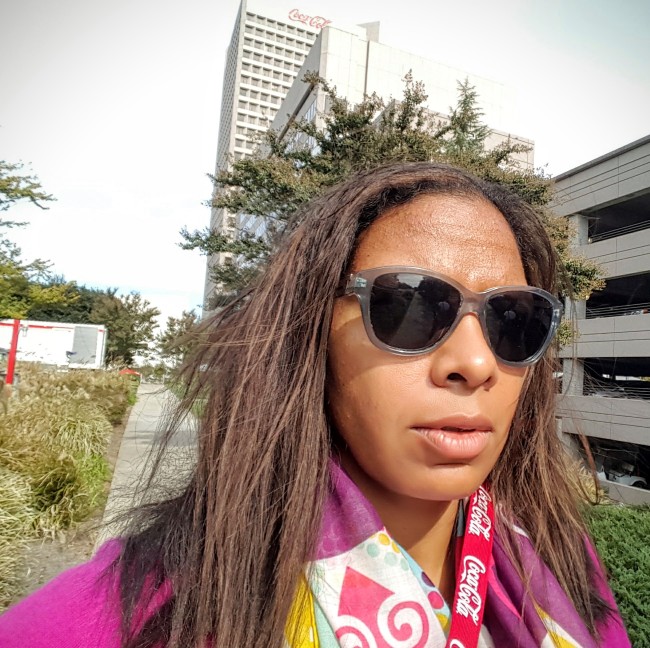 Working with the USO and on behalf of the military is not something new to the Coca-Cola Company. They were a founding partner of the USO 75 years ago. For three quarters of a century, the Coca-Cola Company has had an enduring partnership with our country's military. I'm proud to be a tiny part of it during their Veteran's Day 2016 celebrations.
Coca-Cola has supported service members dating back to 1941. During World War II, former Company President Robert Woodruff committed "to see that every man in uniform gets a bottle of Coca-Cola for five cents, wherever he is and whatever it costs the company."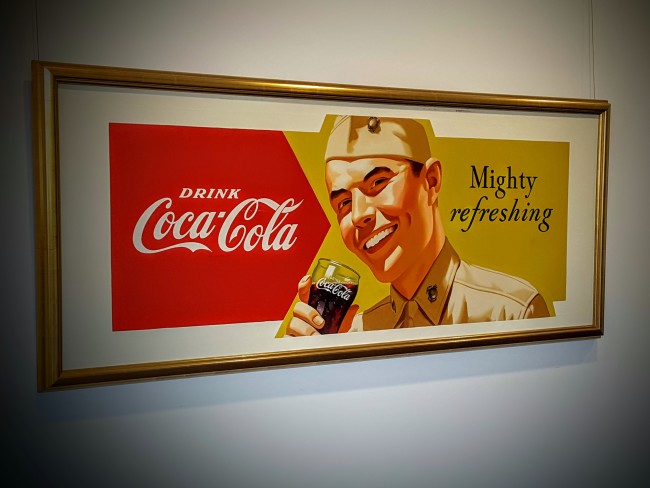 That commitment to serve the military extends today with veteran hiring efforts at Coca-Cola.  Hundreds of veterans are hired by Coca-Cola in North America every year. In fact, they have hired more than 5,000 veterans since 2013. They also support military veterans through career recruitment and development and several mentoring partnerships. Mark Rahiya, Chief US Sales & Operations Officer, Coca-Cola Refreshments, explains why Coca-Cola seeks to hire veterans:

The Coca-Cola system provides great-tasting beverages to more than 200 military bases and other affiliated outlets worldwide. In addition, Coca-Cola provides approximately 2.4 million beverage servings per day to active-duty members of the armed forces, reservists, retirees and their families. Everyone deserves a nice, cold Coca-Cola, but no one more so than the members of the military!
Veterans Day 2016 USO Care Package Stuffing Party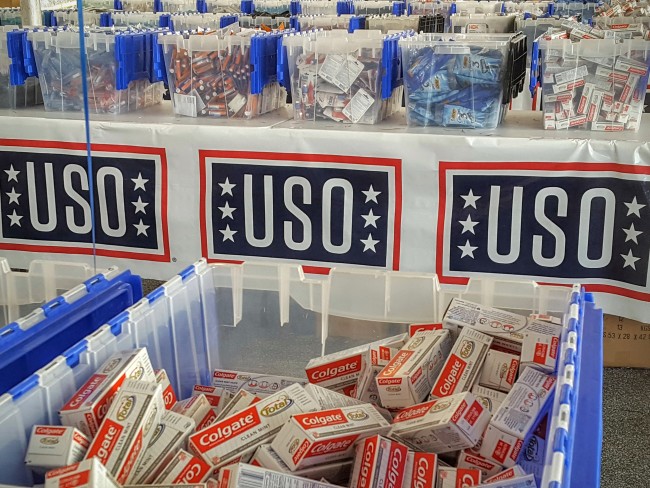 This year marked The Coca-Cola Company's 7th annual care package stuffing event at their headquarters in Atlanta, GA. Each year, more than 400 Coca-Cola employees gather at Headquarters to assemble care packages to help boost morale for our troops overseas. Over the last seven years, Coca-Cola employees have assembled more than 70,000 care packages. I was honored to join them this year!
In addition to the jubilant Coca-Cola employees who seemed genuinely happy to be able to give back, the USO Show Troupe performed. They definitely added a fun, festive air to the event. I can see why they are such a hit with service members when they perform at military bases across the world. These guys and girls can sing!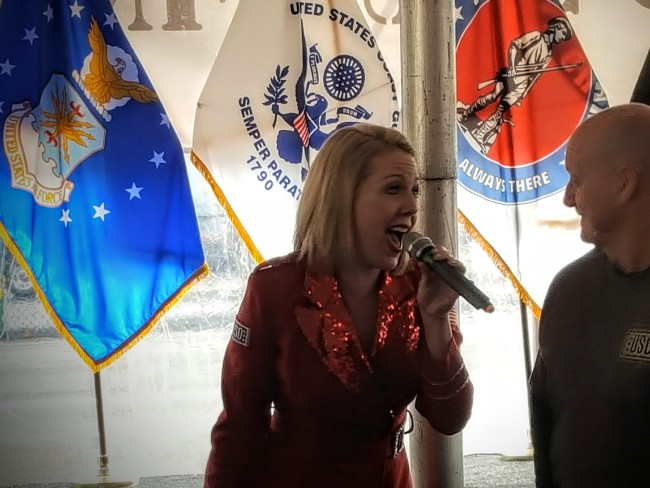 We were also able to witness the swearing in of the military's newest recruits with the US Army Atlanta Recruiting Battalion. Right in front of us, brave young men and women took the oath to enlist in the Army. It was a moving, humbling experience to see them step up and promise to defend our country. They looked young, but also confident and self-assured, no doubt proud of their commitment.
How Will You Support Veterans for Veterans Day 2016?
With Veterans Day 2016 upon us, I urge you to do what you can to support the members of the military and their families. Donate money to the USO. Volunteer time at with the USO or another veteran-focused non-profit. Support brands, like Coca-Cola, who also support the troops. And whenever you come across a man or woman who has faithfully served our country be sure to thank him or her.
Are you in the armed forces or part of a military family? Thank you for your service! There are lots of ways companies are seeking to show their appreciation to you this Veterans Day. Check out this post for 10 Veterans Day 2016 deals.
If you're in Atlanta, the World of Coca-Cola, one of the top tourist attractions in the city, has a great deal for veterans. While members of the military are always free, the World of Coca-Cola is now offering half-price tickets for military families from now through Sunday, Nov. 13th. Members of the Armed Forces may purchase up to four half-price general admission tickets for their friends and family to join them in visiting the attraction. Tickets may be purchased with a valid Armed Forces ID card at the attraction's ticketing windows.
I understand our freedoms have never been free. I'm in awe and in debt to those men and women who fought and died to protect our great country.
To all veterans everywhere…THANK YOU!