I am a member of the Netflix Stream team but all opinions are always my own.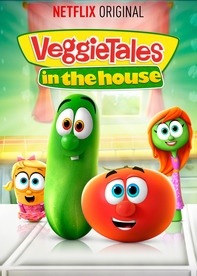 I am a big fan of Veggie Tales. I love the heartfelt, bible-based messages each movie carries. I love the fun, silly songs I can sing along with my kids. I love that my kids are entertained and educated and that there are always little funny moments built into each show just for mom and dad. Veggie Tales are the best, man!
I was super excited to hear that Netflix has teamed up with Veggie Tales to make a Netflix original series, Veggie Tales in the House. The new series started streaming today, just in time for all the free time the kids have this long holiday weekend! (And if I can get some things done during the 23 minute show then we all win!)
From on Veggie Tales in the House from Netflix:
The beloved faith-based brand hits the small screen with a fresh new look and all-new adventures. Join Bob the Tomato, Larry the Cucumber, and all their veggie friends as they explore new areas of their wondrous house while singing catchy, original songs included in each episode. Perfect for young families, this laugh-out-loud comedy seamlessly weaves good moral values into each episode in a fun, exciting way for Veggie lovers of all ages.
Don't have Netflix? Why not? This month would be a great time to start the one month free trial. Now that Thanksgiving break is here we are in a slippery slope to Christmas vacation. And I don't know about you but when the kids are off Mama needs her Netflix!