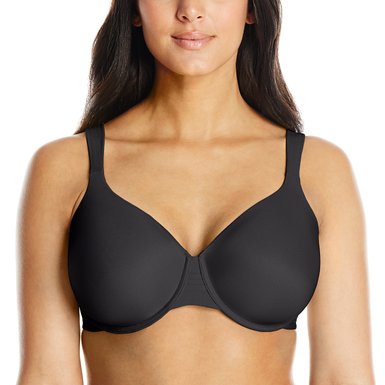 It's simple. Buy one Vanity Fair bra, get one free AND one bra gets donated to a woman in need. Buy one, get one, give one! Starting this month, Vanity Fair is kicking off its Buy One, Get One, Give One (BOGOGO) events at major retailers across the country as well as online. Come to Kohl's, Macy's or JCPenney and buy any Vanity Fair bra at regular price and you'll get a second one for you for free!
Check out my review of Vanity Fair bras to see how they lift me.
In addition to getting to getting two bras for the price of one, Vanity Fair will also donate one bra to further support women at Dress for Success. They are committed to donating up to 50,000 brand new bras to this worthy organization.  Their goal is to give a new Vanity Fair bra to every Dress for Success woman in the US this year.
To help shoppers make the connection between themselves and the women at Dress for Success, women will get the opportunity to write a personal note of encouragement to a Dress for Success recipient.  These notes will accompany the bra donation and serve to uplift women emotionally, as Vanity Fair uplifts them physically.
Dress for Success helps women looking for a job or just trying to get back on their feet. Join Vanity Fair in giving them support and encouragement so they can find the confidence to rock their new life.
More about the Vanity Fair BOGOGO event:
Did you know 3.9 million women in the U.S. are unemployed. With the help of Dress for Success, Vanity Fair believes a bra can make a difference. And so can you!

Buy One, Get One, Give One Event Dates: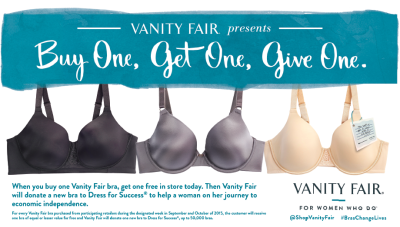 •       Kohl's: Sept. 24 – Oct. 3, 2015
•       JCPenney: Oct. 7 – Oct. 12, 2015
•       Sears: Oct. 11 – Oct. 17, 2015
•       Macy's: Oct. 14 – Oct. 18, 2015
•       Bealls: Oct. 18 – Oct. 24, 2015
•       Boscov's: Oct. 25 – Oct. 31, 2015
•       Belk: Nov. 1 – Nov. 8, 2015