Still haven't spent any quality time with the Big Guy (Santa that is) this holiday season? If you're in Atlanta, you're in luck! There are still lots of opportunities to visit with Mr. Claus and get that photo you feel obligated to get every year in a more unique environment. Here are some of the fun events coming up when you can meet with Santa, but also have an enjoyable time as well.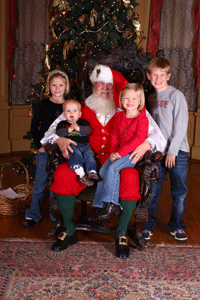 Santa at Rhodes Hall
On weekends from now through December 21, 2013, Santa Claus will receive guests at the historic (and beautifully decorated) Rhodes Hall on Peachtree Street. This event will give families the opportunity to meet one on one with Santa. A $35 family admission covers entertainment, refreshments from area caterers, personal time with Santa, and a 5×7 photo. Families can also bring their own camera and/or video camera for an additional $20 (payable at the event). Appointments can be made by registering online at www.GeorgiaTrust.org or calling 404-885-7812. (And they go fast).
Story time with Santa
Northlake Mall invites children and families to experience storytime with the big man in red! Families can gather around on Saturday, December 14 from 1 – 3 p.m. in Center Court to enjoy a holiday story with Santa. Kidgits Club members will get to spin an exciting prize wheel to win a special treat! This event is FREE for Kidgits Club members and guests can become a member and receive a year's worth of events for only $5.
Breakfast with Santa overnight package at the Ritz-Carlton Lodge Reynolds's Plantation
Want to get away from the holiday stress for a night or two but don't have the time, inclination or funds for a full blown vacation? Just head an hour south of Atlanta to the luxurious and totally family-friendly Ritz Carlton Lodge. Be sure to save some time for the ice skating, Mrs. Claus's story time, holiday bingo and family movies, and a ride on the Linger Longer express. All those activities are complimentary for guests. The Breakfast with Santa package is available December 13 and 20, 2013 and includes:
Overnight accommodations (one or two nights) for four in a resort-view guestroom

Admission to Breakfast with Santa, includes breakfast gratuity

Starting rates: $399 Friday for one-night stay only; or $339 per night Friday and Saturday

To book a holiday stay, please call

800-826-1945
Tea with Santa at the St. Regis
For an extra special treat, save time for Tea with Santa, hosted by the man in red himself at the posh St. Regis hotel! Unlike any other holiday experience, families will relish the moment where Santa and Mrs. Claus leisurely join for a private visit over holiday tea and invite the children to share wishes and dreams in an intimate family setting. Offered daily through 24th. ($42/child, $52/adult). All Holiday tea reservations can be made by dialing 404.563.7797. And check out all the other holiday activities going on at the St. Regis while you're there too!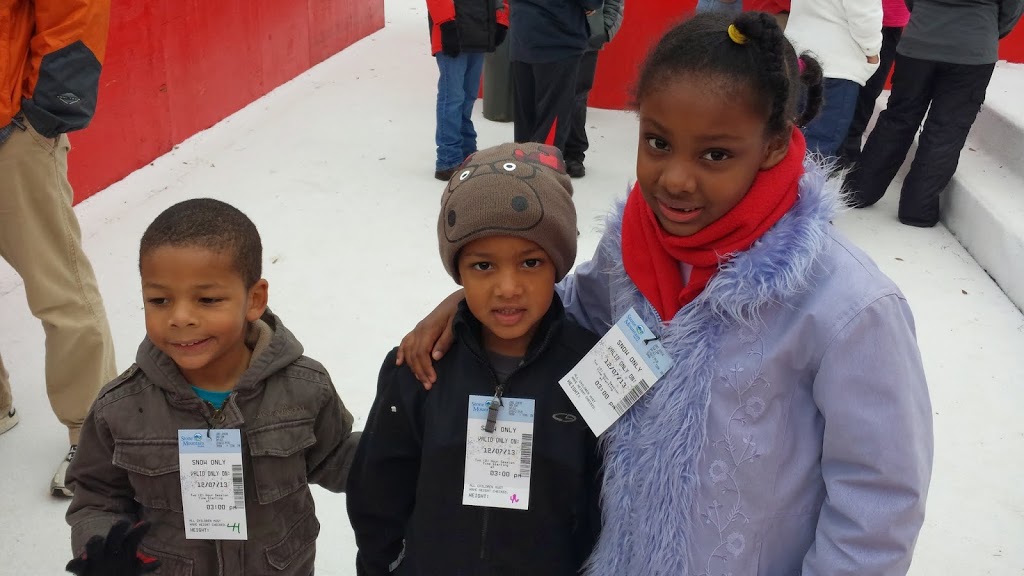 A Stone Mountain Christmas and Snow Mountain
Going to a Stone Mountain Christmas is one of my favorite traditions of the season and this year you can include some snow action too as Snow Mountain is already open! Santa visits Stone Mountain nightly and is open for receiving guests in his cottage. Mrs. Claus spins some "Mistletoe Tales" too so don't miss out! My advice is to get out there early and stay late. There's so much to see!
Pajama Party with Santa
Take the kids to vi
sit Santa in their PJs on Tuesday nights at Cumberland and North Point malls. Include your child's favorite stuffed animal, blanket or book and capture a memorable moment AND get another use out of those cute pajamas you bought. As a bonus, your kids will be ready for bed right when you get home!
Bring a new unwrapped toy to donate for Toys for Tots and create a memorable moment for a deserving child in our community too.
Click here
for times and locations. And want to save 35% on one of their great packages? You can pre-pay here for the deal.
Festival of the SEAson at the Georgia Aquarium
Visiting Santa Claus is usually a big part of most family's holiday traditions. At the Georgia Aquarium guests can skip the traditional mall Santa and experience the man in red like never before.
Seaside St. Nick
is available for kids of all ages during scheduled dates and times in the Atrium and is waiting to hear what all of Georgia Aquarium's guests hope for this holiday. The
famous Weeki Wachee Mermaids are also returning this year for more magical performances in the AT&T Dolphin Tales theater. And they even complimentary
mermaid meet & greets
will take place Dec. 14 & 21!