May is UNICEF Kid Power Month and they are kicking it off in Atlanta! For anyone looking for a fun, free, educational activity tomorrow, May 6, 2017, head down to Lenox Square Mall in Buckhead. UNICEF is encouraging kids and families to get active and save lives in Atlanta through UNICEF Kid Power. Atlanta will be hosting an activity packed day for kids to have fun and get active while helping save the lives of severely malnourished children in the world. Don't live in Atlanta? Events will also be held this month in LA and Chicago!
UNICEF Kid Power Month
This May UNICEF Kid Power is asking children and families around the nation to Show the World Your Kid Power. On Saturday, May 6, UNICEF USA will host an activity packed afternoon of games and entertainment to encourage children and families to get active and save lives.  This is the first of three events that will encourage local families to show their Kid Power, get active and help save the lives of severely malnourished children around the globe.  The UNICEF Kid Power Team hopes to use daily activity to unlock 1 million packets of lifesaving Ready-to-Use Therapeutic Food (RUTF) packets in the month of May. The event will feature a Star Wars inspired activity, a Target crazy maze, main stage entertainment and much more
When: Saturday, May 6th | 10:30am – 3:30pm
Where: Lenox Square
Address: 3393 Peachtree Rd NE, Atlanta, GA 30326
The Atlanta UNICEF Kid Power event is going to be HUGE and will draw hundreds of kids to get active and save lives. Target and Lucas Films (Star Wars) are major sponsors, and the [FREE] activities going to be super fun, engaging and educational. I'm told there will be a giant maze, on-stage talent, dance parties and other big and small group activities. It's definitely not a day to miss!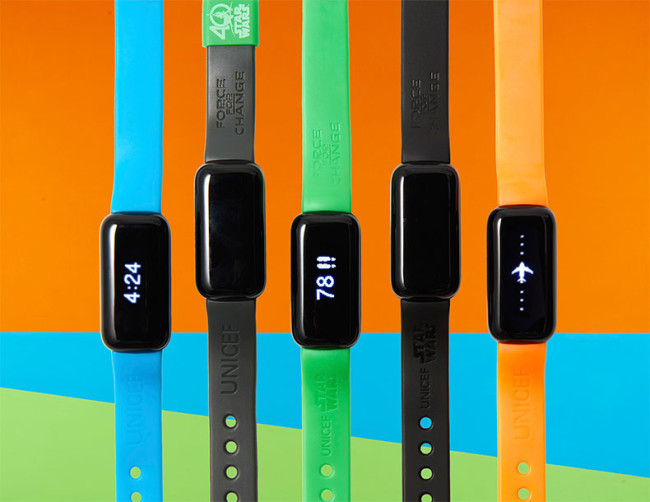 Atlanta kids are already using the UNICEF Kid Power Bands and are really making a different. These bands are similar to other fitness trackers, but the kids can accrue points that actually go to help people in need around the world. Check out the impressive Atlanta-area results – these students are making a tangible difference:
Students: 10,404
Points: 422,360
RUTF Packets: 42,086 (that's nearly 280 children's lives saved – a child needs 150 RUTF packets to recover from severe acute malnutrition)
About UNICEF Kid Power
UNICEF Kid Power activates kids' inner heroes, giving them the power to end global malnutrition and save lives, one step at a time. The UNICEF Kid Power Band is the world's first Wearable-for-Good®. Kids use their activity to unlock lifesaving nutrition that UNICEF delivers to severely malnourished children around the world. 
The Kid Power Band was created to help solve the global challenge that 1 in 4 kids around the world is malnourished. It also strives to help solve the challenge of only 1 in 4 American kids getting enough physical activity. The UNICEF Kid Power Band was named by TIME Magazine as one of the 'Best Inventions' of 2016. Kid Power is COPPA and CISPA compliant. UNICEF Kid Power is a program of UNICEF USA and is made possible thanks to the generous support of Presenting Sponsors Star Wars: Force for Change and Target, as well as local supporters, parents and fans. Learn more and join the team by visiting www.unicefkidpower.org, your local Target store, or Target.com.