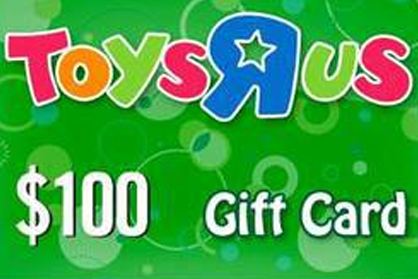 Why do a Toys R Us gift card giveaway? The easy answer is why not? But the long answer is…
Because it's better to give than receive.
Because moms like free money.
Because you know you'll find yourself in Toys R Us this holiday season.
Because toys are stinkin' expensive.
Because you can get diapers there too.
Because…well it's the season to give!
I give…you receive! Yay!
It seemed like you liked the Target gift card giveaway so much I hooked up with the same group of bloggers to offer a $100 Toys R Us gift card giveaway. My four kids have long wish lists and between myself and Santa I'm hoping we can get them the things they want and need this year. I just wish I could enter my own giveaway because this is surely one I'd love to win!
The $100 Toys R Us gift card giveaway will run from December 9th at 12:01am ET – December 15th at 11:59pm EST.
Enter for a chance to win a $100 Toys R Us Gift Card.