Topped and Loaded meals have arrived at Applebee's Neighborhood Grill & Bar, but they won't be here for long. They are available at 38 restaurants through the Atlanta area and across the country through September 4, 2017. These unique pairings are just one way this iconic chain is turning up the flavor.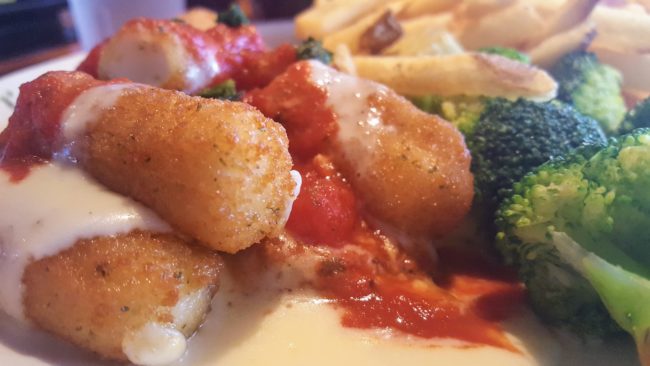 Topped and Loaded Meals join Applebee's already expansive menu. For a limited time only you can build your own completely customizable meal. Start your favorite protein as a base, then add a delicious flavor-packed topper and choose two tasty sides. With options starting as just $10.99, the new Topped and Loaded Meals are a great value.
My Topped and Loaded Meals experience

I visited the Applebee's location in Atlanta on Spring Rd. close to the new SunTrust stadium. It was quiet for lunch and the service was excellent. Our server honestly couldn't have been nicer. I had the grilled chicken breast which was very moist and well seasoned. It was topped with mozzarella marinara. Delicious! I figure a healthy base made up for the more calorie-dense mozzarella marinara. And for sides, the really tasty steamed broccoli counteracted the crisp well-salted fries. That's how that works right?
This particular Applebee's also had some other great deals. On Tuesdays from 4p to 10p, kids eat free! Up to two kids eat free per adult! The general manager said that's become a fun, popular night at the restaurant now. Also on Mondays from 4pm to close, it's $5.99 Burger Night. Those are two good excused to not cook on a weeknight to me!
What are Topped and Loaded Meals?
The bases for Topped and Loaded Meals include:
GrilledChicken Breast
Bone-in Pork Chop 6 oz.
USDA Choice Top Sirloin 8 oz.
The new Topped and Loaded Meal Toppers include:
Marinara Mozzarella Stick Topper: Crispy Mozzarella sticks, marinara sauce and Parmesan cream sauce
Bacon Beer Cheese Topper – BLUE MOON® White Cheddar beer cheese, bacon, crispy onions and green onions
Cajun Shrimp Topper – Blackened shrimp, sautéed onions and lemon butter
In addition, you get to select two hearty sides. Choose from garlicky green beans with bacon, steamed broccoli, garlic mashed potatoes and fries.
"We are excited to announce the addition of our new Topped and Loaded Meals to our menu this summer," said Pamela Jones, vice president of marketing, Neighborhood Restaurant Partners, the Atlanta-area franchisee. "These dishes truly offer something for everyone, whether diners are craving the classic Italian flavors of our Marinara Mozzarella Topper, or are looking to experience the bold, blackened flavors of our Cajun Shrimp Topper! We look forward to serving these new items to our guests and seeing all of the fun flavor-packed combos that they come up with!"
The Topped and Loaded Meals are available at all 38 Applebee's locations owned and operated by Neighborhood Restaurant Partners in the Atlanta area. The Topped and Loaded meals can be enjoyed any time of the day. But remember, they are only here until September 5th! For more information on this and other great deals from Applebee's, check out the restaurant online, or just stop by!