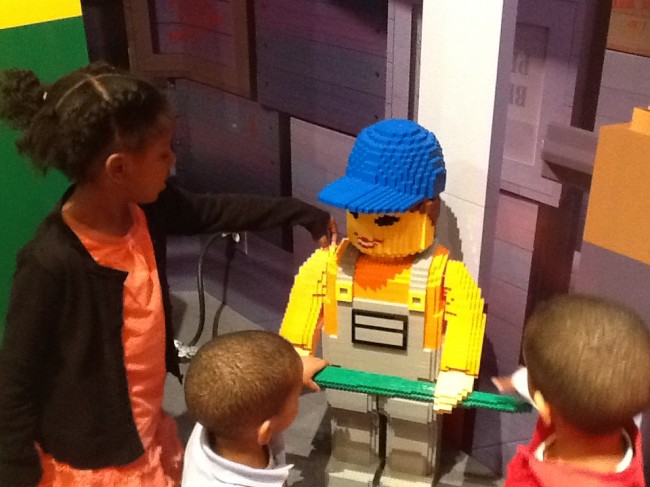 My kids LOVED the LEGO sculptures!
The new LEGOLAND Discovery Center at Phipps Plaza in Atlanta is a truly welcomed family attraction in Buckhead. What used to be known as a rather…ahem… bourgeois…type of mall, now is open it's arms (and free parking decks) to the minivan masses. I had a chance to preview the attraction with my family and was really impressed with the amount of things to do and the way my kids (all under 5) could do everything. They really had a ball! It could get a bit pricey for larger families but if you take advantage of their online deals, I think it's a well-worthwhile splurge.
Since it can be expensive, I put together my top 10 tips for having a great experience at LEGOLAND Discovery Center, especially in the next few months. It opens March 17 with a big celebration including a trackless train, ice cream from Cowlicks, and other fun surprises. Tickets are still available to be purchased for that day!
To get the most out of your visit, I've put together a list of tips and tricks for parents who are planning on visiting the LEGOLAND Discovery Center in Atlanta:
Buy tickets online. I cannot stress this enough. A LEGOLAND manager told me that he expects "hours long lines" for people who just show up hoping to get into the attraction that day. At least for the first few months, just plan ahead and buy tickets online. Plus, you can save 10% on each ticket buying them online. (Door price: Adult: $19, Child: $15)
Don't leave your little ones at home! This is a place for everyone! Kids under three are free but they can do just about everything there…even the rides! My almost 2 year old nearly wore himself (and me) out running from place to place.
Ditch the stroller. Yes, you can bring a stroller and the facility is totally accessible, but unless you have a non-crawling, non-walking baby, the stroller will just get in the way. My kids climbed out of the double stroller before we even got inside the entrance. There's so much to see!
Go early…or late. When you buy tickets online, you can pick the best time that works for your family. If you go early then you can stay as long as you want and you don't have to rush at all. I'm guessing that the place will get more crowded as the day goes along. However, the LEGOLAND website says after 2pm the crowds thin out. You can save a few dollars by buying an "afternoon ticket" for entrance after 4p. They are open until 7pm Mon-Fri, 9pm on Sat and 6pm on Sunday. For a family of four, the afternoon ticket would save $12 ($55 total online price).
Allow 2-3 hours for your visit. You won't necessarily spend an entire day at LEGOLAND Discovery Center but make sure to give yourself (and your kids) enough time to experience everything.
Prepare for the crowds. The LEGOLAND Discovery Center isn't huge so even with crowd control, I can only imagine that it will be a bit crazy the first few months. Just know that it will be crowded and prepare yourself for it. It is what it is.
Take advantage of the Cafe's "family deals" for a more economical option for lunch or dinner during your visit. I saw a hot dog deal with drinks for 4 people for $25 and a pizza deal with drinks for 4 people for $30. There are not many family-friendly options right now in Phipps Plaza so these deals are going to be your best bet. LEGOLAND asks visitors to not bring in outside food except food/milk for infants and children with allergies.
Watch kids, especially those three and under, closely in the LEGO "Fire Academy" play area. This area is fantastic (my kids stayed in there forever) but little ones could get stuck in a 'can't climb up, can't go down' place which means Mom or Dad have to get up there. Also, they request that everyone wear socks so be prepared if you go during flip flop season.
Enjoy. It will be fun if you let it…or overwhelming if you let it.
Tickets seem too expensive? Get a group together and ask for a group rate. This is less expensive (one group I belong to got a $9 per person rate) plus there is the bonus of going with friends!