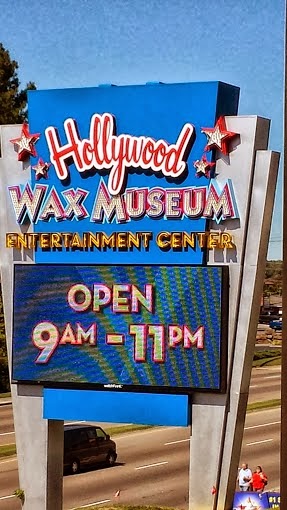 Traveling with kids is tough. No two ways about it. But when you soldier through it and go anyway, you create these amazing memories of family fun. My husband and I decided early on that having kids was not going to stop us from traveling. Now, four kids later, we understand having a family changes when we travel, how we travel, where we travel, and what we bring (oh boy!) when we travel, but the point is We. Travel.
Here are 3 ways I have learned to making sure family fun is included in every trip:
1. Be kid-friendly.
Sure you'd love to meander through the halls of MoMA all day but your kids will go nuts. Maybe an hour at an artsy museum is OK if you sandwich it in between a park and a fun lunch. Or try something off the beaten path to inject some family fun into the day. We recently popped into the
Hollywood Wax Museum
in Pigeon Forge for something different to do. The kids were enthralled with all the celebrities and loved that they could walk into the open sets and interact with them. Places like the Hollywood Wax Museum know that "Don't Touch" doesn't translate well for kids.
2. Be silly.
Traveling is a good time to let your "mom" guard down. At the
Hollywood Wax Museum
, I felt relaxed enough to pose with Beyonce and since a little "Bad" with Michael Jackson. My kids had a ball because they got to see their mom in a light-hearted, silly way. I don't always have to be the eat-your-vegetables-do-your-homework type of mom!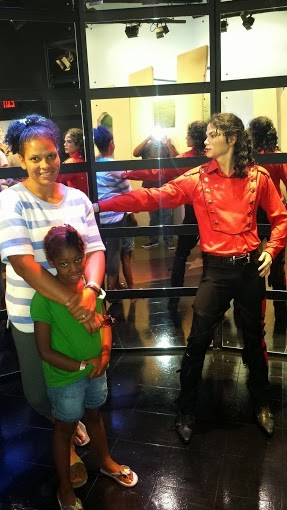 3. Be prepared.
Even when traveling, my crew thrives on routine. They want three square meals, a few snacks and drinks and probably a treat or too. They may need a nap midday or a book to read in the car or a sweater to fight the AC. I've learned to be prepared for all of that. There's nothing worse than a hungry kid…except a tired, hungry, bored kid. Yeah…that kid stinks. Also, being prepared can save you time and money. On the
Hollywood Wax Museum's Facebook page
I found the operating hours and even discounts on admission. A little preparation can go along way to make sure the family fund can pay for the family fun!
I was selected for this opportunity as a member of Clever Girls Collective and the content and opinions expressed here are all my own.