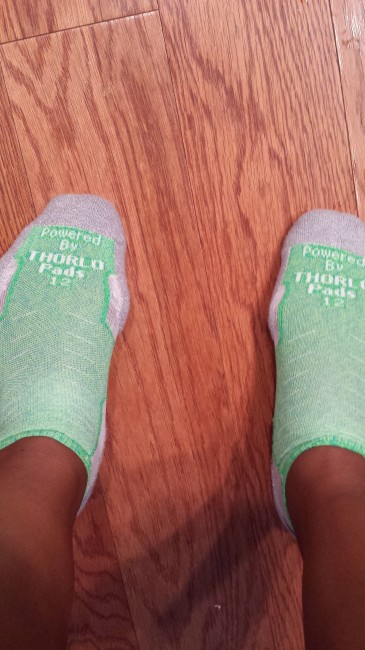 This is not an ad or a paid promotion. I did get a few pairs of Thorlo socks in the mail but was not asked to write a post. But I could not NOT write a post. Thorlo socks are the best socks you will ever own. And I do not say that lightly. Skip below to get a FREE pair for yourself.
Thorlo socks are made by a family-owned company. I was introduced to them at a press event for the BB&T Atlanta Open where they were promoting their charitable initiative. (Love companies who give back.) I did my research and found out that these socks are made in the USA by people who call themselves "caretakers of the world's feet". I thought their tag line, "Thorlo Socks make your feet smile" was a bit corny…until I tried on a pair of Thorlo socks. These socks are the real deal and my feet, and my face, were smiling. Go here to see why Thorlo is different.
Thorlo socks are cushioned for specific sports and activities (hiking, tennis, walking, running, etc) and these seem like they are custom-made for me. I have worn them running, walking, playing tennis and even for a day at Six Flags Over Georgia. My feet thanked me every time. My planter facitis has totally gone away. The pain from shin splints has been reduced. And my feet don't have that awful fatigue/soreness at the end of a long day. Thorlo explains why my feet feel so good:
The padding density varies, depending on the part of the foot we are protecting. Where the shear and impact forces are extreme—usually in the ball and heel—the padding will be more dense to buffer against those forces, reducing the causes of foot aches and pain.
Don't believe me? Think I'm exaggerating? Get a FREE PAIR OF THORLO SOCKS for yourself! (Note: One pair per household. US residents only. Shipping extra.) Try them out and tell me what you think. I know your feet will be smiling too!