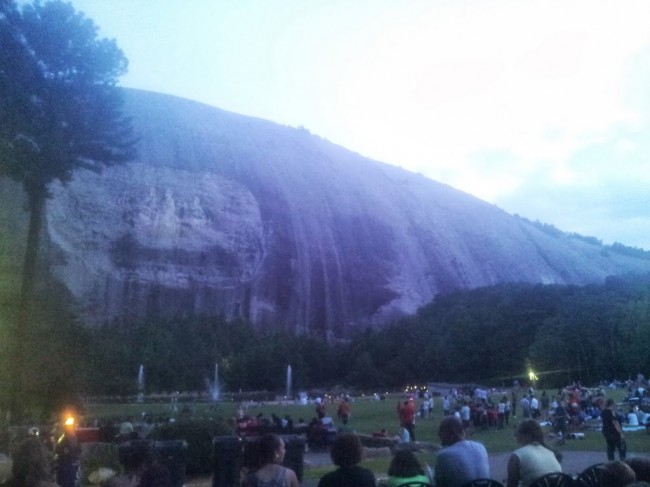 The Lasershow starts at dusk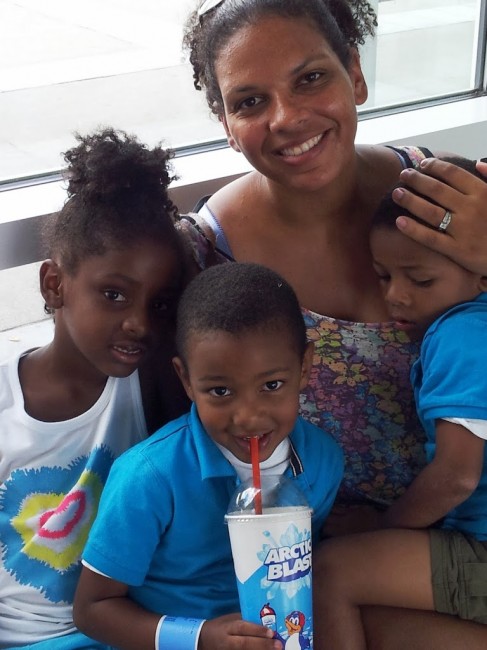 This summer has been the summer for staying close to home for our family. Road trips are fun, but with four kids under the age of 7, they are a lot (A LOT) of work. Being close to home is just easier. And lucky for us, we live close to some fantastic places to visit. Stone Mountain Park and the Evergreen Marriott, located right in the park, hosted us for our latest staycation. We received accommodations, breakfast, park passes, and a really thoughtful welcome basket to make us feel at home. Of course though, none of that would get in the way of giving you an honest review.
We have been to Stone Mountain many times. We love the Summit Skyride to the top of the mountain, the Lasershow is always a showstopper and fabulous finale for a fun day, and the Stone Mountain Christmas is now an annual Smith Family tradition. But we've never stayed overnight and we have never done the Sky Hike obstacle course or Geyser Towers, the new summer addition. But to tell you the truth, I wondered if there were enough things to do for a whole weekend. Would we be…gasp…bored? Here's what I found out: heck no!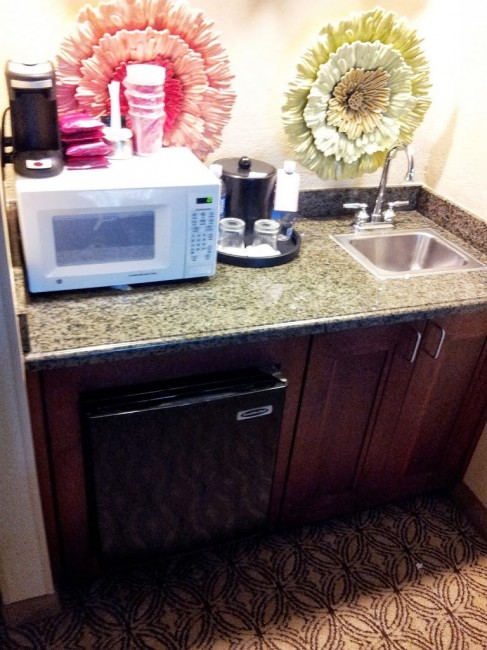 Refrigerator & a microwave!
If you want to "rough it", don't stay here. This hotel is a full-on luxury resort with all the amenities, and some extras, any family could want. They have a great pool with pool toys for the kids as well as a shallow baby pool perfect for my little ones. I loved that they showed family movies in a movie theatre-like setting on Fridays and Saturdays, helpful when the weather isn't cooperating.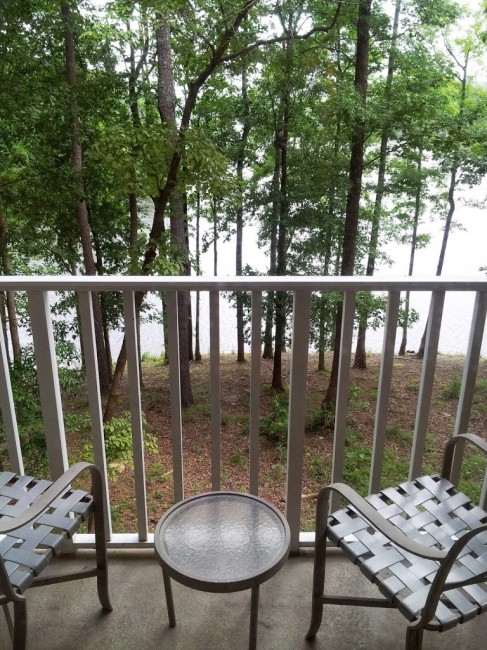 Great view!
The hotel offers free parking and shuttle service to the attractions to keep things as easy for families as possible. The rooms were well-appointed, included a refrigerator and a balcony, and were very large. We stayed in a one-bedroom suite and had plenty of room to spread out. Family Tip: Since the hotel backs up to the woods and the lake, be ready with bug spray if you want to use the balcony, especially at night.
Our breakfast at Waterside Grill was perfect for our family. Quick, easy and with lots of options. And the huge display of fresh fruit got my kids eating more of it than usual! Family Tip: Lines can get long at the buffet later in the morning so go early!
There is SO much to do at Stone Mountain Park staycation. From the 4-D movie to the shows to the attractions there is really something for everyone. Not all my kids could do everything, as there are height restrictions on some attractions, but I liked the way that Stone Mountain doesn't exclude anyone.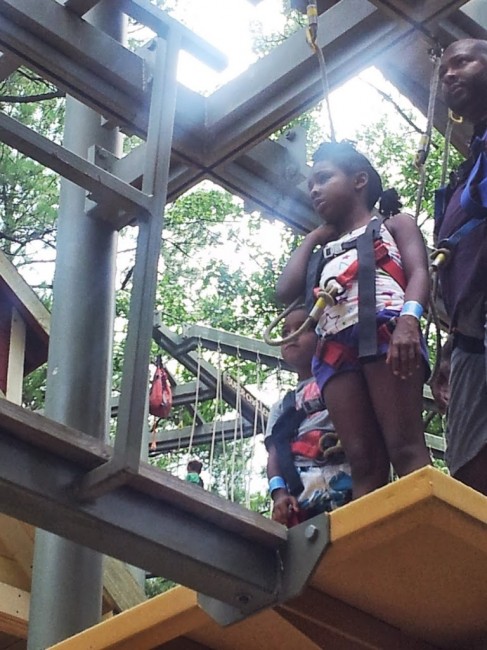 Sky Hike: My older two were tall enough to do the obstacle course, Sky Hike, but my 3 year old didn't make the cut. However, we were able to watch the big kids as well as let him try a smaller version in the Camp Highland Outpost. Family Tip: Allow for enough time. It typically takes about 90 to 120 minutes for someone to do all three levels at Sky Hike, though my kids, ages 4 and 6, took 60 minutes to just do the first level.
Geyser Towers: Let the kids (and parents) cool down in this towering platform play area with water soakers everywhere. Perfect for a hot Georgia day. Unfortunately weather was an issue during our trip, but we were able to get in both Sky Hike and Geyser Towers between rain clouds. (Attractions are closed when rain is approaching for safety reasons.) Family Tip: Be sure to bring closed toed shoes for these attractions as they are required.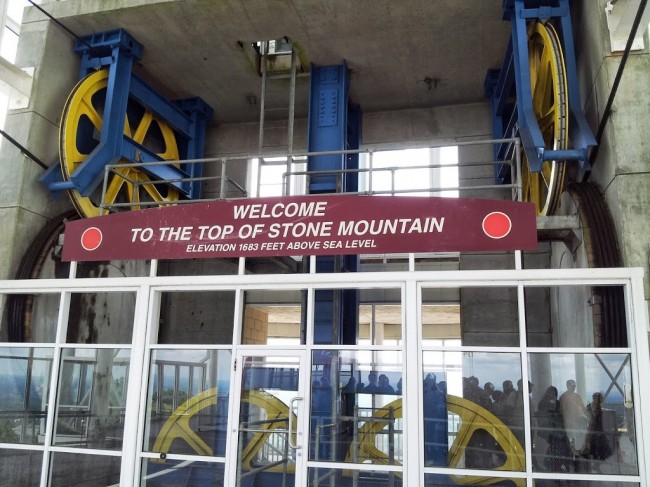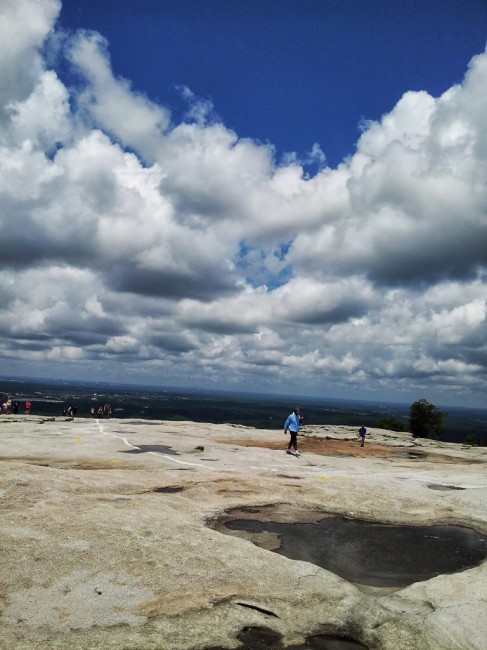 Summit Skyride: Even if you have done it many times before, don't discount the fun of riding to the top of Stone Mountain in the Summit Skyride. Or if you're up for burning some calories, hike on up. There were tons of families making the hike. Just be prepared for it to last about 2-3 hours round trip with little ones. The view from the top of the mountain is so amazing. Family Tip: Make sure the kids are close to the window in the gondola ride up the mountain. They are less scared when they can see what's going on!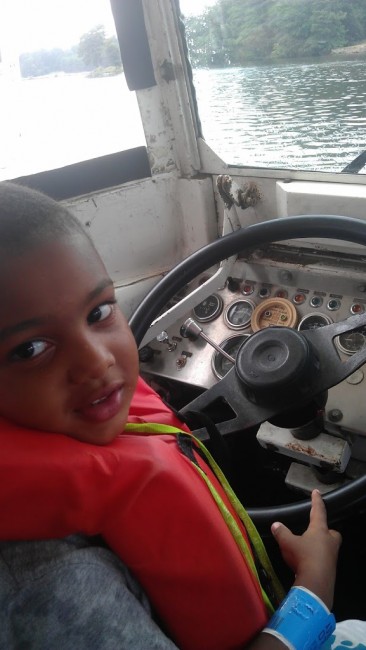 As a kid, I remember riding "the ducks" in Wisconsin Dells so I was so excited to have my own children enjoy the tradition. The rain tried to impede us but we kept trying as soon as we saw a break in the clouds and were able to get on one of the last "ducks" of the day! The best part of this ride was when it splashed down into the lake. The kids were enamoured by the whole ride and when they got a chance to "drive"? Oh boy were they excited! This activity is an add-on to the typical Stone Mountain Park ticket ($9) or as a stand-alone attraction ($14). It is something unique and a great way to see the beauty of the lake in a relaxing setting. It is totally kid-friendly and the drivers are very entertaining! Family Tip: Want to get wet? Sit in the back or close to the windows. And don't put your purse on the floor because it will get soaked.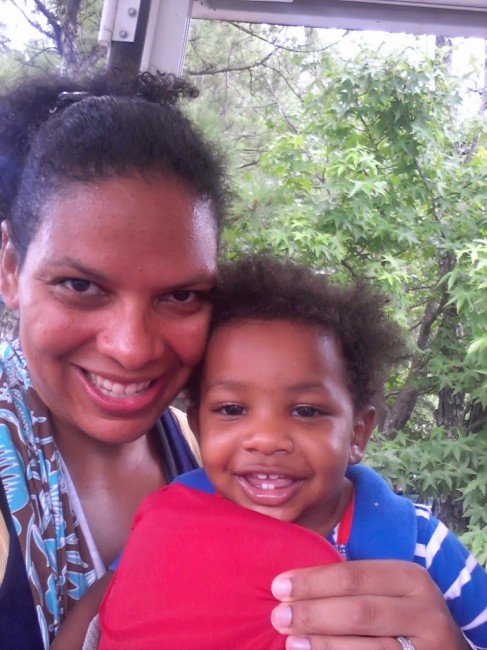 A Stone Mountain staycation is great memory-maker for any family. And with special ticket offers and hotel packages, it can be very affordable as well. Check it out! And tell me where you're going to go on your next family vacation!