I had the fantastic opportunity to check out a brand new, high tech car seat by Graco this past week at a fun event with some other mom bloggers. Since I have used the same car seat for four kids over five years, it was high time I checked out a new one. And boy was this a nice one! The Graco SnugRide Click Connect 40 is the BMW of car seats!
The American Academy of Pediatrics changed their guidelines to advise parents to keep children in rear-facing car seats until age two or when the child exceeds height and weight maximums for the car seat. Prior to this change, parents were told to turn children forward facing when the child reached 1 years of age and 20 pounds. This is what I did for all my children. But now that I know that children in rear-facing car seats are five times safer then those seated forward-facing, I will definitely think differently now.
Graco really put some thought into this new car seat. It cradles a tiny baby but also adjusts to fit a wiggly, giggly toddler. My favorite feature is the on-handed height adjustable headrest. No rethreading as the baby grows! Yes!
My 5 month old is already 19lbs and like all my kids is in the 95 percentile, so it is so nice to have a car seat that will fit him for many months, even beyond his "carrier" days. I am grateful to have been introduced to the Graco Click Connect 40 and plan to have it in my swagger wagon for many months to come. FYI, the Graco Click Connect 40 retails for $219 and can be found at Toys R' Us stores nationwide.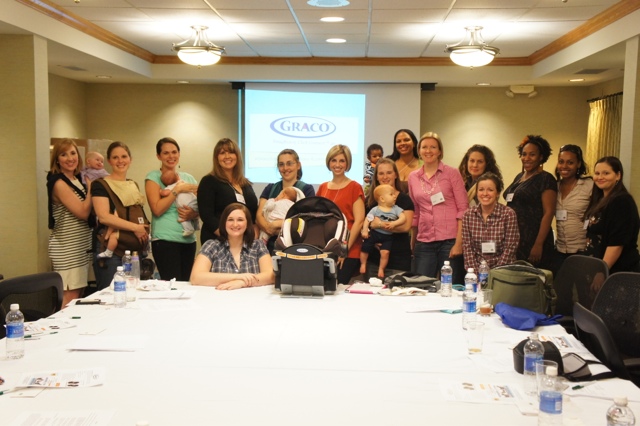 The group of Mom bloggers and babies at the Graco event.
The car seat is sleek and cool and functions as well as it looks!
From Graco:
The Graco SnugRide® Click Connect™ 40 – the first and only newborn to two-year infant car seat that actually grows with your baby from four pounds all the way up to 40 pounds. The car seat is designed for a parent on the go. The infant car seat can be easily removed from the base and used as a carrier when the infant is small, providing portability and convenience so you can easily move your infant in and out of the car without disturbing them.
The American Academy of Pediatrics recently made the recommendation to keep all children in rear-facing car seats until the age of 2. Graco set out to make this product so parents can keep infants rear facing longer while still keeping them comfortable.
Disclosure: This is a sponsored post written by me on behalf of Graco. The opinions and text are all mine.