This post brought to you by GoodNites. All opinions are 100% mine.

I have 4 kids so I know every kid is different.  My oldest was practically dancing on her first birthday while my youngest is content with crawling at 14 months old.  Still, it is tough not to compare children when it comes to the big milestones: walking, talking, and potty training.  I'm working on conquering the latter with my 3.5 year old.
While I can get my little guy to stay dry during the day by instituting a strict "go potty every hour" rule, night time training is harder.  He does not want to wear diapers at all but getting up in the middle of the night to change wet sheets wasn't working for me either.  So when my friends at SocialSpark asked me to take part in an "undercover mission" to test out 
GoodNites
 underwear, I was ready to accept the challenge.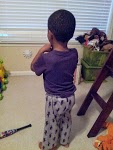 GoodNites underwear
are especially made to protect against leaks when the child is lying down.  Geared toward kids 4 and up, they offer a good fit and give older kids a self-esteem boost that bed wetting may have taken away.  Every kid (and every bladder) develops at their own pace.  GoodNites Underwear makes the process a little easier on mom and more comfortable for the kids.
So back to my mission…my first obstacle to overcome was to get my son to put them on.  I hoped they would not be similar to diapers and I got my wish.  They are thinner, softer, and have cool Spiderman graphics on them.  I had no issues with getting him to wear them.  The next part of the mission was to see if they worked.  Being so thin I had to wonder if night time linen-changing was going to be in my future but it wasn't! The GoodNites kept the bed dry.  And then something amazing happened the next night: he stayed dry all night.  The next night, the same thing.  It was almost like GoodNites helped him to stop worrying about having an accident and just relax.  I won't say the GoodNites will help all kids learn to stay dry overnight but it was the catalyst in my house.  Our mission was accomplished!
Check out GoodNites.com to learn more about bedwetting, get advice from both parents and experts, and pick up money-saving coupons. Also be sure to enter the
Undercover Mission Sweepstakes
 on their website and on the
GoodNites Facebook page
 to earn great prizes. Use code: 8675
How did you get your kids to stay dry at night?