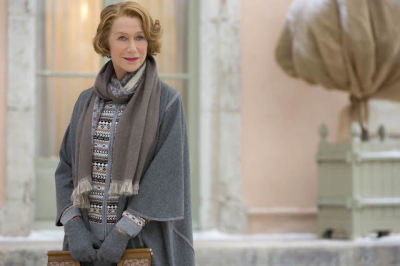 The new DreamWorks Studio movie, The Hundred Foot Journey will change the way you look at food. And at France.  And at the relationship you have with food and travel and love and family.  This movie makes you think.  I loved it!
The Hundred-Foot Journey, in theaters today, is produced by Oprah Winfrey and Steven Spielberg and Oscar-winner Helen Mirren stars in it.  If that's not enough reasons to go see The Hundred-Foot Journey, here are a few more:
Beautiful, breathtaking scenery.

Great use of culture without hitting you over the head with it.

You get to cheer for this family. You want them to win!  (Although winning doesn't always look like you think it will.)

It encourages you to be adventurous with your food (something I typically am not).

It reminds you that "home" is not a place…it's a feeling.

Manish Daya is delicious!  He could make me an omelet any day!
If you liked Under the Tuscon Sun, The Notebook, Eat, Pray, Love…or if you just like to eat...go see The Hundred-Foot Journey. You will love it!  And go with friends because you will NEED  to talk about it afterward, preferably over a fantastic meal and/or bottle of wine.
Food is memory.  Just like smell of cranberry scones takes me back to mother's kitchen, the characters in The Hundred-Foot Journey find that food transports them as well.  What memory does a special dish invoke for you?
From Dreamworks:  "The Hundred-Foot Journey" abounds with flavors that burst across the tongue. A stimulating triumph over exile, blossoming with passion and heart, with marjoram and madras, it is a portrayal of two worlds colliding and one boy's drive to find the comfort of home, in every pot, wherever he may be.