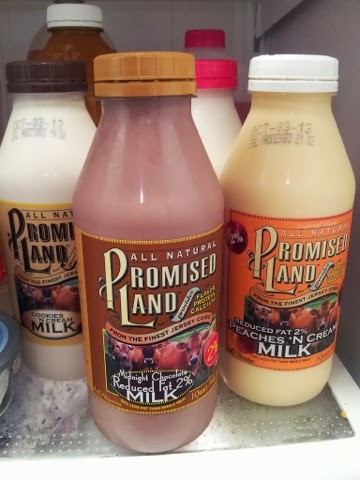 I love it when I come across a new "find" for families! Recently, Promised Land Dairies sent me my first ever milk delivery to review their products. Growing up in Wisconsin made me a milk connoisseur so I wasn't sure what to expect, but I was astonished at the taste, consistency, and nutrition of this milk. Better yet, my kids LOVED it. It was like dessert to them and they fought over who got the last sip. For milk! Love that.
Promised Land
milk just made it to Publix stores in the Atlanta area (woohoo) and they offer some really unique flavors. We tried cookies-n-cream, peaches-n-cream, chocolate, and whole milk (for the baby). Every flavor was rich and delicious and packed a powerful protein punch. I thought it would be higher in calories and fat, but honestly it wasn't that bad. Especially when you get the reduced fat flavored varieties. And did I mention my kids loved it?
After looking more into the company, I learned
Promised Land Dairy
has been a family-owned farm for more than 25 years and that they have a strong morale compass. They even showcase a bible verse on their website on which they base their business. Love! Their farm is sustainable and they use only Jersey cows that produce a creamier, richer milk packed with higher levels of calcium and protein. They aim for quality not quantity…and it shows.
Sure, you will pay a little bit more for
Promised Land Dairy
products but it is so worth it. (And this comes from the thrifty-queen!) Buy it as a fun treat for the kids or maybe to liven up your own breakfast. I stick with skim milk most of the time but I also enjoy a special treat too. I can't wait to try it in my baking this holiday season. Chocolate chip pumpkin bread made with Cinnamon Vanilla milk??? A Bouche de Noel cake made with Midnight Chocolate milk??? The possibilities are endless.