The Color Purple is one of my favorite books of all time. It's also one of my favorite movies of all time. And so it should come as no surprise that it is one of my favorite Broadway productions of all time. Atlanta is in luck because Broadway in Atlanta is bringing the production to the Fabulous Fox Theatre this week!
I first saw The Color Purple 12 years ago on Broadway in New York. I was young and loving life when my then-boyfriend/now-husband sprang for a  trip to New York just to see this show for my 29th birthday. (Oh my gosh I was so young!) Sure we went to the Statue of Liberty and went shopping at Barney's but it was the two hours I sat in The Broadway Theater seeing The Color Purple live that I remember most.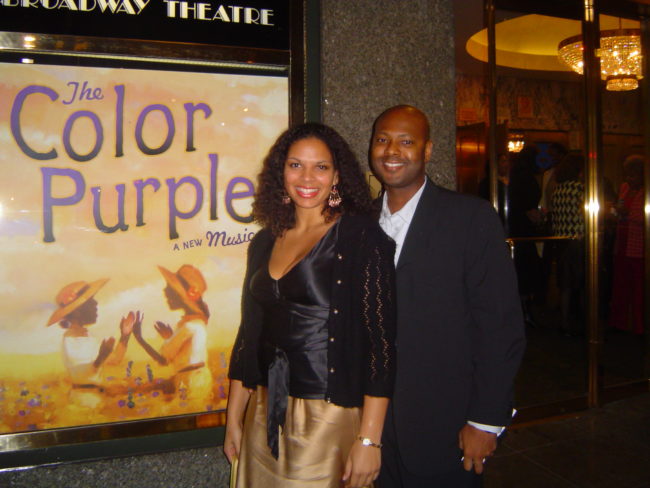 The Color Purple mesmerizes you. It takes you to a different place and time. It makes you laugh with a joy you didn't know was within you but comes bubbling up all the same. And it makes you weep with a sadness so deep you have to remind yourself that Celie is a character and not a real person. I want to be strong like Sophia. I want to be free like Shug. I want to be as hopeful as Celie. Oh, these characters are so real to me! As an adopted person, I find the themes in this play so familiar. However, there is something everyone, of every background, can find familiar.
The Color Purple Description
"The Color Purple is the 2016 Tony Award winner for Best Musical Revival! Hailed as "a direct hit to the heart" (The Hollywood Reporter), this joyous American classic has conquered Broadway in an all-new "ravishingly reconceived production that is a glory to behold" (The New York Times) directed by Tony winner John Doyle.
With a soul-raising score of jazz, gospel, ragtime and blues, The Color Purple gives an exhilarating new spirit to this Pulitzer Prize-winning story.
Don't miss this stunning re-imagining of an epic story about a young woman's journey to love and triumph in the American South. the musical sensation that New York Magazine calls "one of the greatest revivals ever." Experience the exhilarating power of this Tony-winning triumph!"
The Color Purple in Atlanta
The Color Purple is playing in Atlanta at the Fox Theatre (660 Peachtree Street Northeast Atlanta, GA) from October 24 through October 29, 2017. Limited tickets are available and can be bought at the Box Office (to avoid extra fees) or online.
SCHEDULE
Tuesday October 24 – Thursday October 26 Showtime: 7:30
Friday October 27 Showtime: 8PM
Saturday October 28 Showtime: 2PM and 8PM
Sunday October 29 Showtime: 1PM and 6:30PM