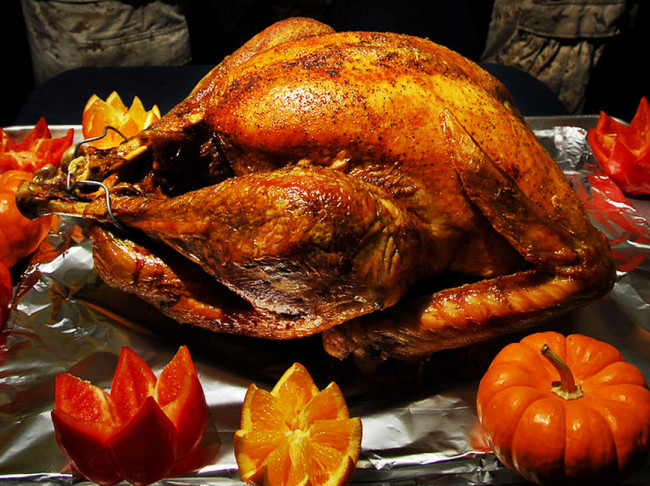 Thanksgiving Day is tomorrow!  Are you ready? Just in case you want to spice things up a little this Thanksgiving Day, I wanted to pass along this great Latin Mojo Turkey recipe from Chef Bill Rosenberg, Executive Chef at NoMa Social in New York. For someone who wants to get out of the ho-hum turkey business, this recipe should do the trick! Chef Rosenberg also has some fantastic ideas for quick and easy Thanksgiving Day starters too!
Latin Mojo Turkey Recipe
Prepared by Chef Bill Rosenberg, Executive Chef of NoMa Social
Ingredients:
18-20 lb turkey
2 cups olive oil
1 ½ cups chopped garlic
1 onion diced
1 cup fresh orange juice
1 cup fresh lime juice
1 cup pineapple juice
1 cup salt
¼ cup cider vinegar
3 table spoons toasted cumin (grind)
1 bunch chopped cilantro & stems
1 teaspoon ancho chili powder
1 teaspoon cracked black pepper
Directions:
Thaw bird if frozen, remove giblets and excess fat. Mix all mojo ingredients well to dissolve salt. Pour marinade over turkey making sure to rub into bird and cavity. Place into refrigerator overnight flipping the bird over at least once to redistribute marinade. Place into a 375 degree oven for 12 minutes a pound. Reserve marinade and place into a pot and bring to a boil. Reserve as dressing for turkey when it's done cooking. Once fully cooked, rest for ½ hour. Then carve and enjoy!