I am a stickler about reversing the "summer slide". I want my kids to have tons of fun over the summer traveling and visiting attractions and just being kids, but I also make sure #campmom offers some learning time too. My three older kids all have workbooks they need to complete each day. I also have individual things we work on together such as multiplication tables for my almost second-grader, sight words for my soon-to-be kindergartner and correctly writing letters with my rising pre-k kid. Even the baby (who's TWO now) colors to get in on the action. I hope that among all the fun this summer, they learn some things too!
Another thing we love to do each summer is participate in summer reading programs at our local library, through my kids' school, and even at Barnes & Noble. I love to read and have always wanted kids who love to read so I'm doing whatever I can to ensure that. I have one reader and one beginning reader and two more that need to be read to, so they all help each other. I love seeing my big kids read to my little ones. It's such a great bonding experience…and it means they aren't tearing up the house for 20 minutes. Winning!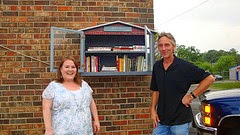 Little Free Library in Smyrna, Georgia
Earlier this year I gave you some literacy activities I've been doing with Alpha Bits cereal. I love that they have partnered with Little Free Library to further promote reading and giving all children access to books. Little Free Library is a network of handcrafted free-standing structures where anyone is welcome to borrow, take, or leave books for others. The concept began in 2009 and as of January 2014 there are almost 12,000 Little Free Libraries world-wide!

I was hoping to have my own Little Free Library (donated to me through a partnership with Alpha Bits) up and running by now but life (and logistics) has gotten in the way. But I hope to have it up somewhere in my community this summer. Want to know where it is? Follow me on Twitter and Facebook for updates! Is there a Little Free Library near you? Check out their map! A close one to me is in front of Vickery Hardware Store in Smyrna, Georgia.

So what are you doing to stop the summer slide and keep your kids reading this summer? I'm open to to more suggestions!