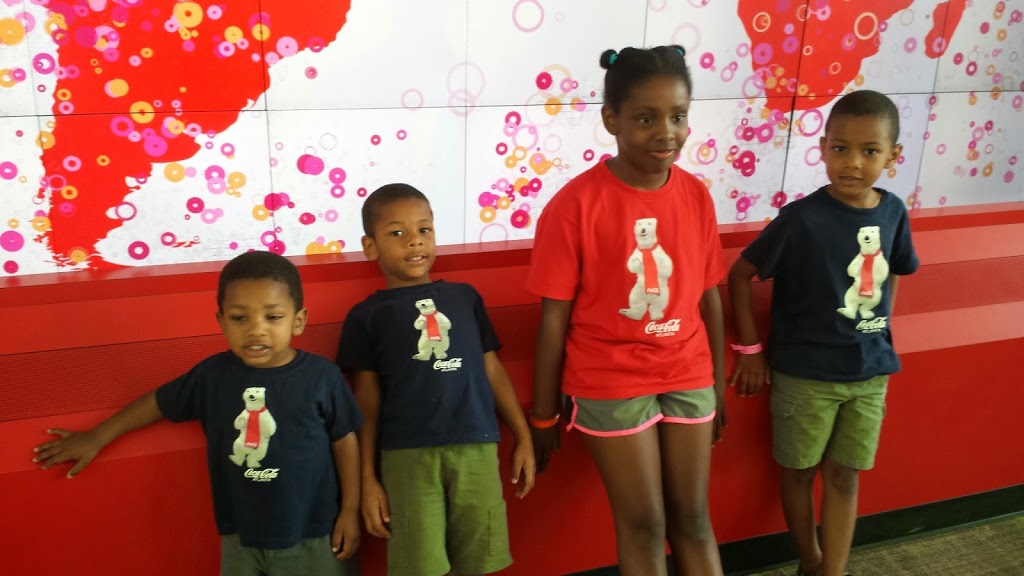 Yes, I know that back-to-school items have been on sale for a month. I know that the reading lists and over-the-summer assignments are now being worked on. I know that the countdown to have the massive school supply list finished has begun. But I want to scream: SUMMER ISN'T OVER YET!
In Atlanta we still have three weeks of glorious summer relaxation before the pencils, books, and dirty looks during homework ensue. So let's make the most of them! Who wants to spend one of those days at the World of Coca-Cola in downtown Atlanta with your family? See below how to enter!
I visited the World of Coca-Cola with my 4 kids this summer. It was on our summer "bucket list" (that the kids created) and I was happy when I was offered complimentary admission for a bloggers get together there. My kids love that place and I do too. But for different reasons. Soda is a treat in my house but they know that when we go to the World of Coca-Cola the rules are relaxed. It's the 'when in Rome' thing. They just love sampling all the different flavors from around the world. The Tasting Room is by far their favorite place. I used it as a mini-geography lesson. Win-Win.
In addition to the Tasting Room, the World of Coca-Cola has a sweet new movie, Moments of Happiness, at the beginning of the tour. I was looking around for a tissue afterward. It seriously is touching. Also check out the new exhibit, Howard Finster: Visions of Coca-Cola, which highlights the work of this American folk artist. Of course, you can't miss The Vault of the Secret Formula or Bottle Works (another "edu-tainment" part of the facility.) The 4-D movie is also a hit, but if you have little kids like me, sit in the non-moving seats. You will thank me.
The World of Coca-Cola also has a new mobile app to make your visit better, easier and more enjoyable. It is free to download on iPhone and iTouch devices. It is not available for my android just yet but I saw it in action from a friend's phone and it looked great. It lets you customize photos, learn interesting facts, connect instantly to social networks, and learn basic facts about the attraction.
The World of Coca-Cola is a uniquely Atlantan attraction. It should be a must-visit for tourists but locals need to see it too! There are changing exhibits and it seems like there is always something new (or something I missed before). Want to go for free? Enter this giveaway below! One winner will win 4 tickets to the World of Coca-Cola. The winner will be chosen on July 15, 2014 and the tickets will be mailed out as soon as possible after I get the winner's address.
a Rafflecopter giveaway
Say it with me…SUMMER ISN'T OVER YET. Now go have some more fun!