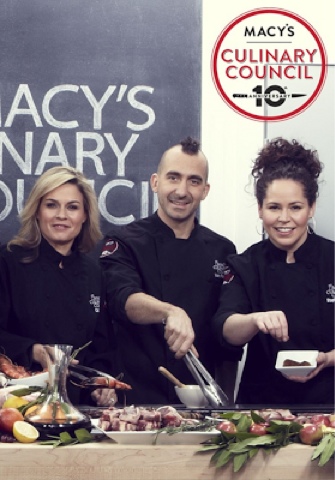 Get ready Atlanta, this summer is going to get sizzling. Macy's at Lenox Square is hosting the "Sizzle Showdown" for six grill-masters competing to win $10,000 and a 4th of July trip to
NYC to be named America's Greatest Grilling Guru! if the hot competition doesn't get you, the awesome judges from Macy's Culinary Council will.
Cat Cora, Marc Forgione and Stephanie Izard…it's like all your favorite food show celebs in one place. Cat Cora is my favorite. I love that she is a mom like me. (Well a better looking, richer, MUCH better cook but otherwise just like me.) The fun event, open to the public, will
be hosted by the stylish Tracye Hutchins of CBS's Better Mornings Atlanta. Can't make it down to
Atlanta to witness the winner in person, check out their Facebook page Saturday afternoon to see who is named the winner. I'm just keeping my fingers crossed for some taste testing opportunities. #RealTalk
Join Macy's Culinary Council Chefs Cat Cora, Marc Forgione & Stephanie Izard as they crown the Sizzle Showdown winner!
Saturday, June 8 2013 at 12:00PM
Macy's Lenox Square, Culinary Kitchen
3393 Peachtree Rd. NE
Disclosure: I am a member of the Everywhere Society which gave me with compensation for this post and invited me to the event. As always though, all opinions are my own.