Looking for a Labor Day sale to help reduce some of your back to school debt? I'm with you! It is amazing how much notebooks, Kleenex, and pencils add up to when you are buying them for four kids! And then add in clothes and shoes and my wallet definitely feels the pinch. But Stride Rite is looking to help parents by offering a BOGO sale right now.
BOGO Labor Day Sale at Stride Rite
Get prepared for the year ahead with durable, flexible, long-lasting shoes that can easily get passed down from Stride Rite during their Labor Day sale. I LOVE these Made2Play shoes for my hard-running boys. In-store and online through September 5, 2016, customers who buy one pair of Stride Rite Shoes can get one 40% off, on select styles.
Want to save even more and do some good in this world?  Stride Rite is offering families the opportunity to give back by bringing a new or used pair of shoes to a Stride Rite store to donate to Soles4Souls. Just drop some shoes in the Soles4Souls donation bin and as a thanks, they will receive 5% off a new pair of shoes on the same visit.
What is Soles4Souls?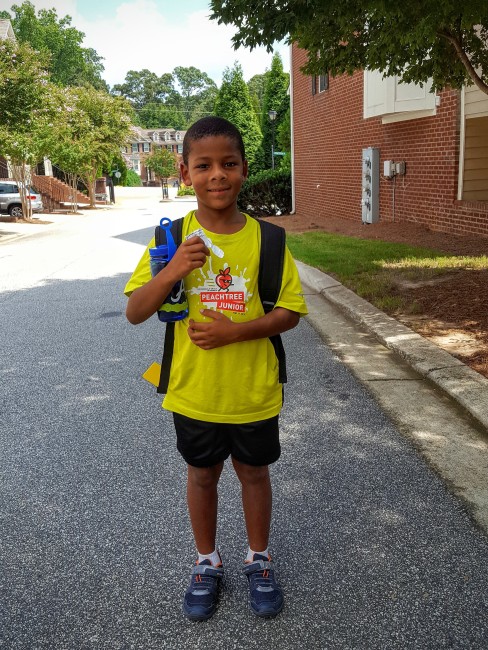 Soles4Souls is a not-for-profit global social enterprise committed to fighting poverty through the collection and distribution of shoes and clothing. This year, Stride Rite has expanded their partnership with their longtime non-profit partner, which is especially important during this back-to-school season.
Did you know millions of children across the world are unable to attend school and are more susceptible to illnesses because they don't have access to shoes? Not life-saving medicine. Not technology. Not even pencils or books. Just shoes.
It is not just in remote far-flung places that need this help though. In developed nations such as the United States and Canada, 1 in 5 children live below the national poverty line. When Soles4Souls helps provide a pair of shoes, they are helping bridge the economic gap. For these families, a new pair of shoes provides dignity and hope. You know how you feel in a new pair of shoes…how your kids feel when they have a new pair of shoes…let's help others feel that way too.
Across the country, we prepare in big and little ways to send our children back to school ready to learn and experience an exciting new school year. It's fantastic Stride Rite is giving customers an incentive to help Soles4Souls give other children that same opportunity to go back to school with a new, well-made, long-lasting, and cute pair of shoes.
Customers can also help during the Labor Day sale just by purchasing their own shoes from Stride Rite. By donating 1% of its net profit on the sale of shoes to consumers through September 5, 2016, Stride Rite hopes to reach its goal of donating up to $100,000 to Soles4Soles to send kids back to school. Want to know more? Check out the details of this mutually beneficial  partnership here.