Disclosure: I received tickets to Stone Mountain State Park and reserved seating for the Lasershow Spectacular in order to facilitate this review.  All opinions are my own.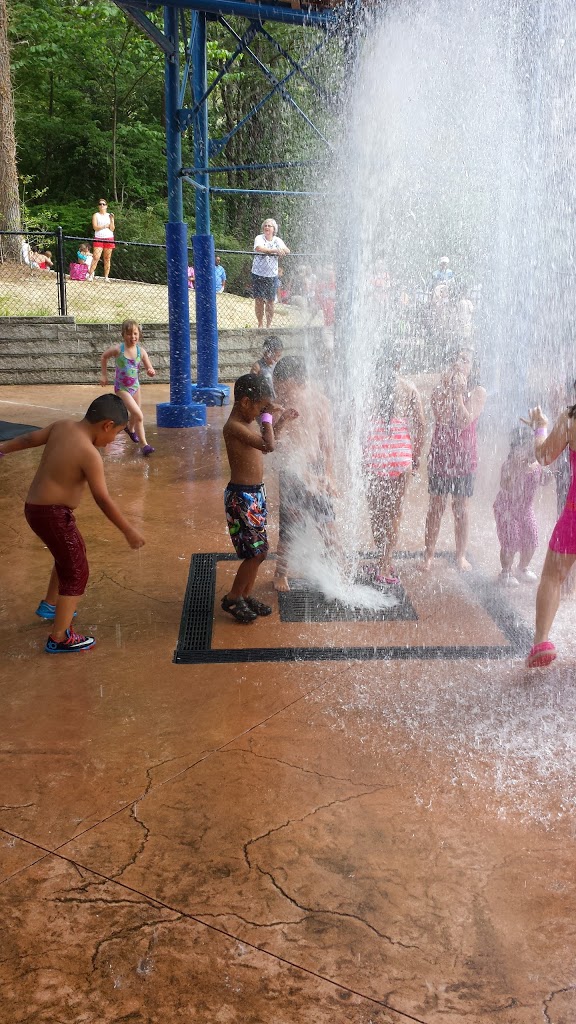 Don't miss Geyser Towers!
My family and I created some memories last weekend at
Stone Mountain Park
.  It was a great way to spend the Sunday of Memorial Day weekend! Though crowded (it was a holiday weekend after all), our kids didn't seem to mind running through Geyser Towers, climbing the rock wall in Camp Highland, or running through the Great Barn.  Even surviving the sudden drenching rainstorm and having to leave earlier than planned was fun.  We will always remember
that
time we went to Stone Mountain State Park and got soaked to the bones waiting for the
Las
ershow Spectacular
. Sometimes the best, funniest memories stem from these type of events.
While I was at Stone Mountain Park, I complied a list of five tips families need to know to make the most out of their day, save some money, and generally have a good time.
5 Secrets for families at Stone Mountain Park 
Beware of rain. If rain is threatening some attractions at Stone Mountain Park will close down for the safety of guests.  However not everything closes!  Camp Highland, the ropes course for the preschool set, remains open even when Sky Hike closes down.  Also the Stone Mountain Park Great Barn is a great place to let the kids run around and stay dry.
Know when to splurge. For those who don't want to rush over to the lawn to reserve a spot for the Lasershow Spectacular or "hope" no one takes or moves their things, consider splurging on reserved seating for the evening's Lasershow Spectacular (which was just updated and includes new music like "Let it Go" and "Happy").  Reserved seating starts at $15/person and includes a reserved seat, unlimited popcorn and a Coca-Cola product. Do not leave Stone Mountain Park before experiencing this show at least once!
Bring light up "things" from home.  Break into your stash of Dollar Store neon necklaces and the light up wands from last year's Disney on Ice show.  Sure you could spend $20 on a new one during your Lasershow wait, but wouldn't you rather spend that money on something delicious like a Funnel Cake or three? Stone Mountain Park has lots of delicious ways to spend money.  Want to save some? Buy tickets online and look for deals.  Currently they are offering a Free Meal Deal on online tickets!
Don't forget to bring the basics. Things like bug spray, sunscreen, and even allergy medicine.  You will be outside most of the day.  Plan accordingly.  Though if you do forget, Stone Mountain State Park has several kiosks which sell the basics.
Bring an umbrella.  And don't leave it in the car parked far, far away. Sudden rain storms happen a lot in the South so just be ready for it.  We were ill-prepared on this front but we won't let it happen again!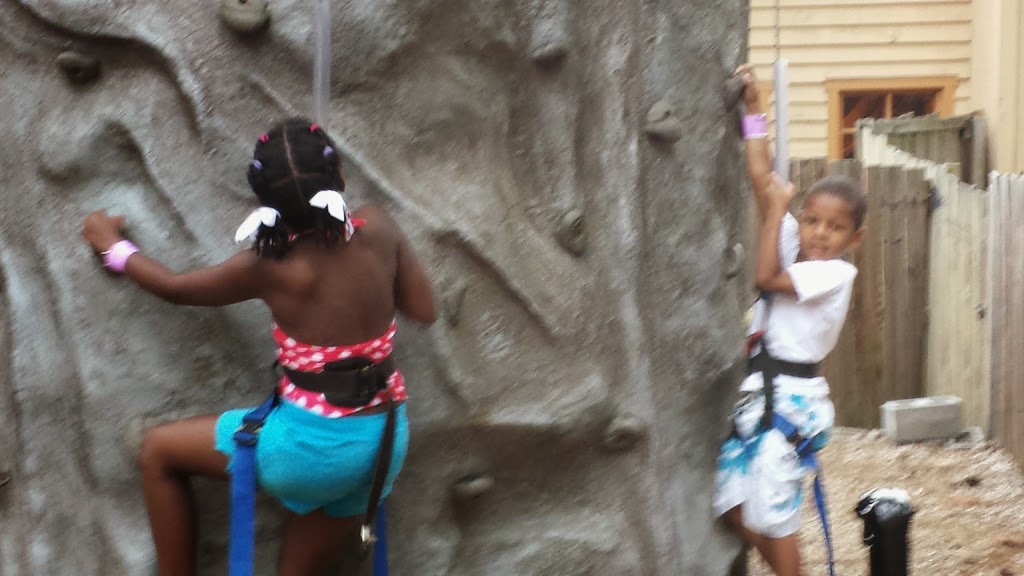 Two of my kids attempt the rock wall!
Stone Mountain State Park
is a beautiful, exciting, awe-inspiring Georgia attraction. There is so much for families to do throughout the year.  It is definitely something to put on your "must do" list, especially this summer to see the updated Lasershow Spectacular.  "More lights. More lasers. More music." Oh boy!  We didn't get to stick around to see it this time because of the rain, but I promise we will be back.  (And my kids won't let me forget this promise!)