This post was written by me on behalf of RaceTrac. I was compensated for the review, however all views and opinions are 100% my own.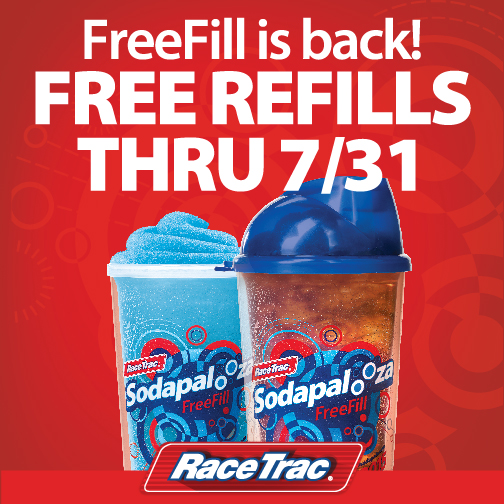 You guys know how much I love RaceTrac, right? I listed stopping in to get a fountain drink in my list of Five Luxuries I Refuse to Give Up. Getting an ice-cold soda straight from the fountain with the "good" crushed ice, all served with a friendly smile is something I look forward to as a treat a couple times a week. But that number is about to go up. RaceTrac is bringing Sodapalooza Freefill back!
Yay! Remember when I told you about it last year? It's back! With summer right around the corner, the Sodapalooza FreeFill is a great deal!  RaceTrac guests can purchase a limited time only Sodapalooza FreeFill cup for $7.99, and then receive FREE fountain and frozen beverage refills through July 31! The cups now include even more coupons for food and snacks for guests to enjoy with their fill-ups. Coupon offers inside the cup include ones for a free donut, breakfast sandwich and roller grill item.
Last summer, I got cups for myself and the kids and we went to RaceTrac for "treats" all the time. It was nice to be able to get them frozen drinks or cold lemonade or whatever they wanted and not have to even take out my wallet. You know how hot it is in Atlanta, right? These cold beverages are EVERYTHING during the summer. Most RaceTrac's offer 30 or more fountain drinks and at least eight frozen options. Go back for seconds, thirds. Heck, go back for forty-thirds!
Enter below to win a $25 RaceTrac giftcard to buy a FreeFill cup for yourself…and some gas too!