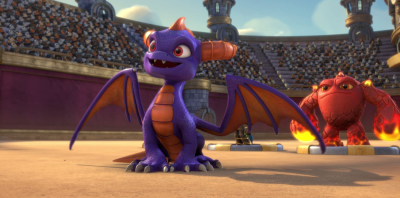 Portal masters rejoice! Skylanders is coming to Netflix this fall in "Skylanders Academy," the highly anticipated, animated action adventure series based on the wildly popular Skylanders franchise. This is the first production from Activision Blizzard Studios' and it received a two season order from Netflix with an anticipated Fall 2016 premiere date.
The show has something for everyone – existing fans, new audiences, children, young adults and parents – with a slew of talented voices including that of Ashley Tisdale, Justin Long, Parker Posey, Susan Sarandon, and Richard Horvitz as the evil Kaos.
The award-winning Skylanders franchise, created by Toys for Bob, has become the 11th best-selling console video game of all time, generating more than $3 billion in retail sales worldwide with more than 250 million toys sold worldwide. Earlier this month, the newest game in the franchise was revealed – Skylanders Imaginators, which allows portal masters to dig deep into their imagination and create their very own Skylanders from head to toe. This newest Skylanders game will launch October 16, 2016. The game will also feature special guest star Crash Bandicoot, who joins the Skylanders Imaginators in a battle to defeat Kaos' doomlanders.
I was recently invited to a Skylanders birthday party thrown by the always-crafty Kendra at Headband for Today. I honestly didn't know much about Skylanders before then but my boys sure did. And we left that party with three boys trying to convince me to buy everything Skylanders. This Fall, I can just sit them in front of a Skylanders Netflix show! That's good enough, right?

While you may be binging on Orange is the New Black, Bloodline, or the always-hilarious Chelsea, your kids will be thrilled to hear Skylanders is coming to Netflix this Fall! And if it buys you a couple stress-free quiet hours, even better. Need some more options to generate "quiet time" via Netflix? Check out this Netflix play list for your whole family. I put it together thinnking about what to include on a playlist for when we travel, but this list could be used at home too. Or at the doctor's office, or at Grandma's house, or anywhere you can get a streaming service to work.