Want to know the SunTrust Park secrets? If you are bringing kids to the brand new home of the Atlanta Braves, you need to get a little information first. After so much fanfare, the amazing stadium is hosting games and inviting fans of all ages to come out and enjoy some baseball, as well as a zip line, climbing wall, batting cages, and tons of amazing food. But before you head to Cobb county, here are six SunTrust Park secrets you should know.
6 SunTrust Park Secrets for Families
1. SunTrust Park has a kid-friendly area.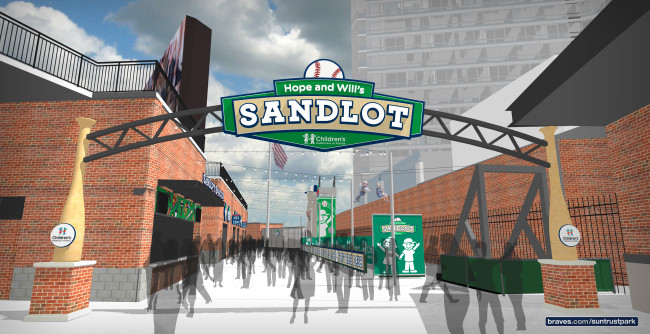 One of the SunTrust Park secrets families should look into first and foremost is the kid-friendly area. The Atlanta Braves teamed up with Children's Healthcare of Atlanta to bring exciting baseball-themed activities to SunTrust Park for the Braves' youngest fans. The "Hope and Will's Sandlot," is a large, kid-friendly area hosted by Children's Healthcare of Atlanta that will have the first-ever zip line and climbing tower inside a professional sporting venue. There also will be a batting cage and a variety of other interactive games. Don't think your kids will sit for an entire game…or even an entire inning? Good news. They don't have to!
2. You don't have to wait for the zip line.
Before you leave for the park, download the new MLB app. Choose Atlanta Braves as your team when it prompts you to sign in and you will have a pleothra of information right at your finger tips. One of the most important things for families is that the app allows you to pay and reserve a time slot for kids to check out the zip line and climbing tower. Each activity costs $5 per person. The app allows you to reserve a timeslot to access both of these attractions.
3. Kids can still run the bases.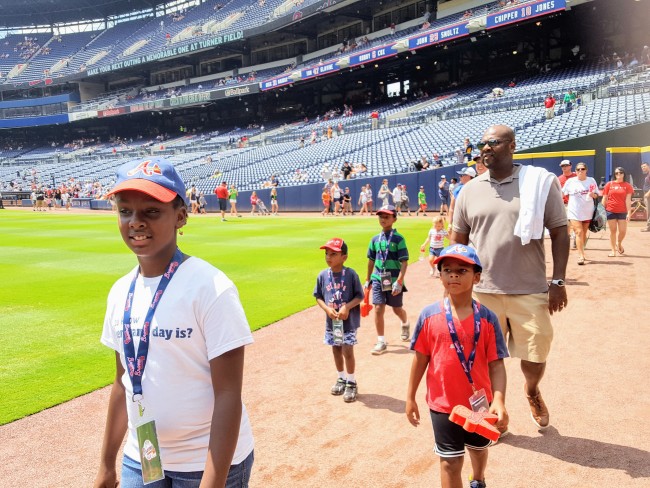 The  Braves and Children's will be bringing back a longtime tradition, and crowd-pleasing favorite for Braves families – kids running the bases after Sunday games. "Braves games have always been a fantastic family outing and SunTrust Park will feature an even larger space for baseball-themed, kids' activities thanks to Children's Healthcare of Atlanta," said Derek Schiller, Braves president, business.
4. SunTrust Park allows you to bring in food.
If none of these options sound appetizing to you, do remember the Braves rescinded their food policy and you can now bring food into the stadium as long as it fits in a clear, gallon-size container.
5. There are kids concessions at SunTrust Park.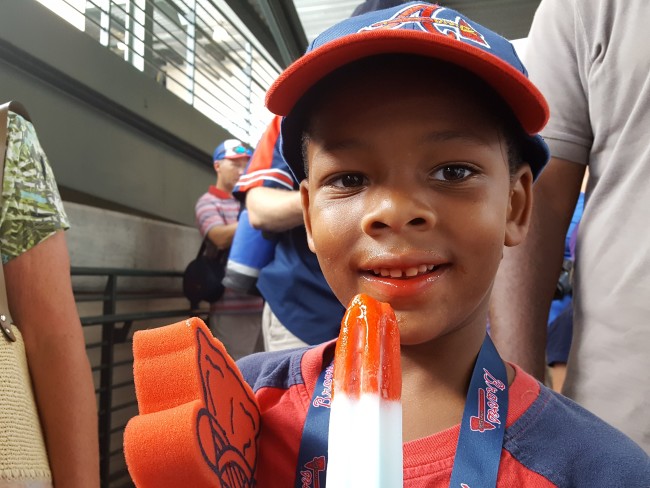 Located in the Hope & Will's Sandlot, there is a concession stand called Sandlot Snacks (Section 155) that features kid-friendly and healthy concession options. Additionally, children-themed merchandise can be found at the Braves Clubhouse Store for Kids (Section 152).
6. You don't have to pay the online ticket fees.
Have you checked out tickets for the Atlanta Braves at SunTrust Park and were surprised at the final cost? Though the ticket prices are very reasonable (starting at only $8 per ticket), the fees can be exorbitant. So go ahead and go old school and head down to the SunTrust Park box office and buy them directly. Just know you aren't able to use online promo codes and some special offers may not be available at the
More about SunTrust Park and The Battery Atlanta SunTrust Park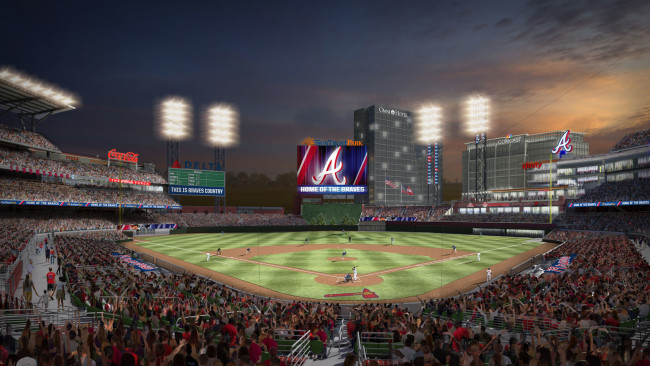 The new 41,000-seat home of the Atlanta Braves is now open for business. Located in Atlanta at the intersection of I-75 and I-285 in the bustling Cumberland area, SunTrust Park will flow directly into The Battery Atlanta, a 1.5 million square foot mixed-use development. Once it is all open, there will be boutique shopping,  restaurants, an Omni Hotel, The Coca-Cola Roxy Theatre, 550 residences and One Ballpark Center, Comcast's regional office headquarters. Peek into SunTrust Park and The Battery Atlanta at braves.com/suntrustpark or batteryatl.com.