This is the last weekend for Holiday in the Park at Six Flags Over Georgia!  My family and I had the pleasure of receiving tickets to visit this event on opening weekend and we had so much fun. The kids got to ride some of the favorite coasters, including the ones perfect for my little guys in Bugs Bunny land. But since it's only open select hours, it's not as physically draining on us parents as a full long day at Six Flags can be in the summer.
Sure it can be a bit cold but…IT'S WINTER. Wear a coat. Maybe grab gloves and a scarf. It's drizzling, bring an umbrella!  Don't let a little weather stop you from enjoying this great event. This is the first year for Holiday in the Park at Six Flags Over Georgia and I for one REALLY hope it is not the last!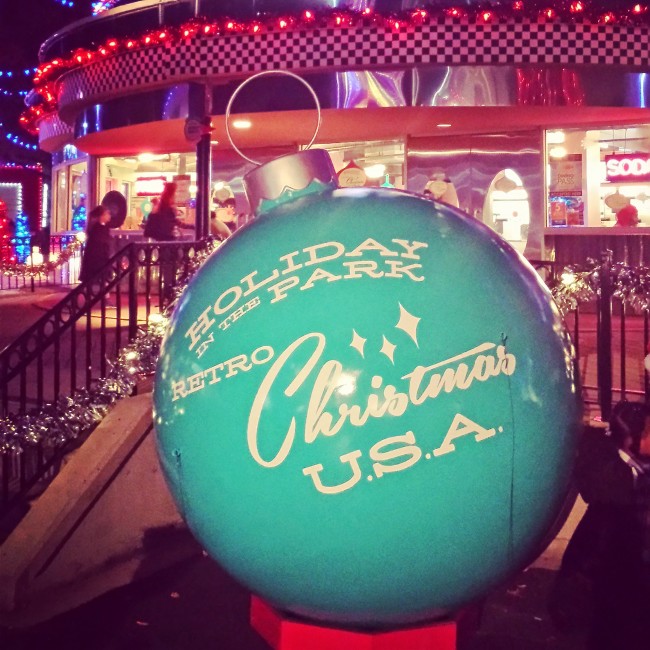 Want to go to Holiday in the Park at Six Flags Over Georgia?  It runs through Sunday January 4, 2015, 12pm to 8pm each day!  Online ticket prices are as low as $39.99/person.  However, you can use the code: HOLIDAY2 to get every ticket for $30.99!
Also, they have a FANTASTIC season pass deal going on right now you may want to consider. For as low as $54.99/person (when you buy 4), you get some great upgrades AND you get to use your pass at Holiday in the Park right away. If you're going to spend $30/person for 1 day, why not spend $55/person and get the whole summer too?!?
Get your 2015 Pass now and use it for free for the rest of Holiday in the Park! BONUS OFFER: Get a FREE upgrade to our exclusive Gold Level, FREE season parking, and FREE admission to White Water for all of 2015 when you buy at least four Passes during our special sale and process at the park by December 28 — extended through January 4! A Season Pass gives you unlimited visits, free tickets for friends on select days and in-park discounts.