Did you know September is National Baby Safety Month? However, if you have a baby (or can remember back to the time when you did) you know that every day of every month is dedicated to baby safety. Babies are just so adorable but they can get into everything!
National Baby Safety Month is sponsored annually by the Juvenile Products Manufacturers Association (JPMA). It is a designated time for parents and other caregivers to evaluate (or reevaluate) the safety measures in their house. The goal is to make sure babies are kept happy, healthy and most importantly safe while they are at home with you, with a caregiver, or at anyone else's home.  The American Cleaning Institute (ACI) has asked me to share some of my tips for keeping babies safe during National Baby Safety Month.
Three Tips for National Baby Safety Month
Use gates when necessary. Although gates should not be relied on exclusively, they can be a good way to keep babies safe and in one place. Many parents use them in front of stairs or to keep young children from entering rooms where they could get into trouble (as in Mom's office or the laundry room). Just remember gates need to be installed correctly and should never be placed at the top of the stairs. (Children could pull up on them and push the gate, along with themselves, down the stairs.)
Use locks whenever possible. Locking cabinets, drawers, doors, and anything else young children could get into is a smart way to keep babies safe. During Baby Safety Month, take some time to make sure everything that has the potential to be unsafe is locked up. Remember laundry packets are one of those products that should be stored in a locked cabinet. These little packets are convenient for parents but they should be stored in a way that is safe for everyone.
Put things WAY up high. For those who don't have the ability to put things like laundry packets behind a locked door or gate, try putting them way up high. And I mean WAY up high. This month, make sure your growing child still can't reach them.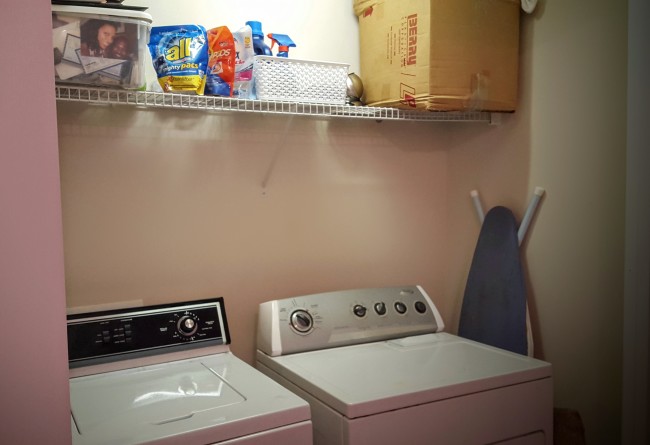 During National Baby Safety Month, take some time to review the safety standards you have set in your home and the homes where your child spends time.  After all, there is nothing more important than the safety of our children. Want to learn more about how to store products like laundry packets? Visit the American Cleaning Institute's website to learn more ways to keeps babies, and even bigger kids, safe at home. You can also download and share ACI's laundry safety PSA which highlights on tips for keeping young children safe during Baby Safety Month and beyond.
You can also take ACI's KEY Pledge to a safe laundry room and routine. You'll be automatically entered for a chance to win a $2,500 Amex gift card for a laundry room makeover.
*NO PURCHASE NECESSARY. Ends on December 31, 2016 at 11:59 p.m. ET. Open to legal residents of 50 U.S. and DC, 21 and older. Void where prohibited. For Official Rules, go to http://www.keypledge.com/Keypledge/TermsConditions.html