I had the opportunity to spend part of Labor Day weekend hanging out with my family downtown. The Omni Hotel at CNN Center hosted us by providing accommodations and a spa treatment so I could facilitate this review. I'm so glad they did! We were able to discover some jewels downtown that we had never known about, like Game X, who provided us with complimentary food, drinks and gaming experience, and some we have loved since first sight…or first sip as the case may be…World of Coca-Cola, who had provided me with tickets earlier this year. Sometimes it just takes a relaxing weekend together in your own hometown to reconnect…both as a family as well as with the city.
Accommodations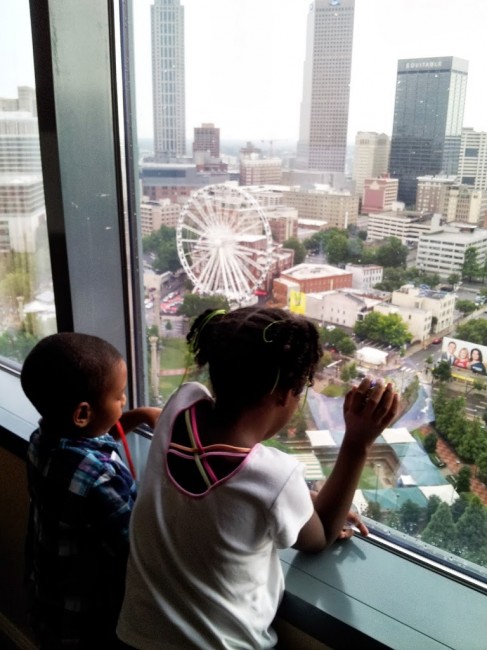 We stayed one night at the Omni Hotel at CNN Center in their new, well-appointed North Tower. We asked fo connecting rooms so our kids could have their own space and when they went to bed, my husband and I could have our own little retreat. We had fantastic views of Centennial Park and the brand-spanking-new Skyview Ferris Wheel. The rooms were decorated very nicely and I loved that they included an in-room refrigerator. Some hotels have cut down on their connecting rooms, but this Omni offers many such options. And with rates as low as $109/night, many families can afford to splurge on two rooms. This is especially true for those Atlantans who don't have to pay for travel expenses for a "staycation".
Know Before You Go
Don't miss the spa! The new Serenity Spa at the Omni Hotel at CNN Center is the perfect retreat for any busy person. It leaves all the pretentious of typical spas out. It is warm and relaxing and a cozy nook to enjoy before or after the actual treatments. The locker room is luxurious and be sure to come early to use the sauna. I had the Avocado Invigorating Wrap. My skin was butter soft afterwards! What a great way to shed my rough, dry summer skin. Atlanta locals, ask for the local special to get 10% off!
Sign up for the free Omni Select Guest program. This is a great rewards program both for families who travel a lot and those who do so infrequently as there are rewards for both. Of course, the more you stay the more benefits you get. But even first time Select Guest guests get complimentary perks like water bottles in your room the first day of your stay, in-room WiFi, a morning beverage delivered to your room, two items to be pressed, and even complimentary overnight shoe shine. If you use them, these benefits are worth a lot of money!
Be sure to list your kids on the reservation so they can receive the Omni Sensational Kids program extras. This program caters to Omni's youngest guests. At the Omni at CNN Center, my kids received a backpack filled with fun items to keep them entertained while we waited out the rain. The Backpack included a discovery map, crayons, flying disc, hacky-sack, magnifying glass and Twizzlers. Kids also get a special delivery of milk and cookies that night. All FREE

.

Want to see what's happening at Centennial Park, perhaps during the many festivals or events down there? Get a North Tower room facing the park. It would be a fantastic place for watching 4th of July fireworks too!
Things to do in downtown Atlanta
Downtown Atlanta is full of things to do and they are all within walking distance of the Omni Hotel at CNN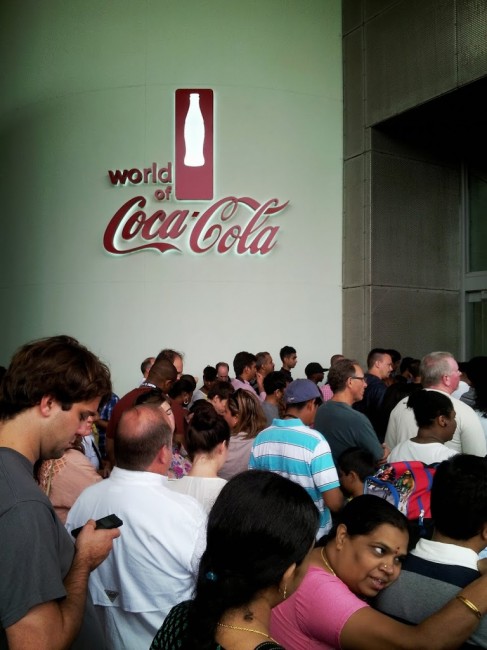 Center. We already spent time at the Georgia Aquarium, Centennial Park, and the Children's Museum this summer so we opted for the World of Coca-Cola and a new (to us) restaurant and gaming space, Game-X Atlanta. The World of Coca-Cola is such a treat for my kids because they aren't allowed to drink soda at home. But I let them indulge here. It is a great teaching tool too to learn about geography and how things are different around the world. And for the first time, all 4 kids sat through the 4-D movie. Woohoo! Be prepared for lines on the weekends though and bring your patience. It does get crowded so go early if you can!
Game X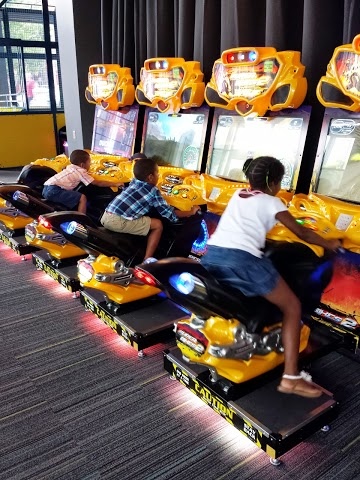 After the World of Coca-Cola, we were invited to check out the "bar-cade" Game X and didn't really know what to expect. We were blown away by how much fun we had and the high quality of food we received. Game X is like a Chuck E. Cheese for big kids (including adults). There are virtual games as well as more typical arcade games. I liked the physical games most of all. My arm hurt the next day from shooting basketball! This is not a stare-at-the-screen type of place! You may get sweaty. Consider yourself warned. It could get expensive with a large family but it can also be a good way to teach kids how to budget. Money goes on a credit-card-like card and each game takes a certain number of points away. Some games cost more than others and some let guests win virtual "tickets" that are stored on the card and can be turned in for prizes at the end of the visit. Check out their specials page for discounts and sign up for their newsletter for a $10 coupon!
The food here is surprisingly good! The guacamole is homemade and tastes like it. The food menu isn't huge but offers something for everyone. The drink menu is huge though. I tried their Apple Cider beer and it was so good my husband ordered one for himself after tasting mine. Every TV had a different game on and while it was a Sunday night of a holiday weekend, it wasn't too crazy. There were some questionable games that my little kids were too young for but most of them were perfectly fine for my under-7 set. I learned that they offer kids birthday parties which would be great for tweens and teens. They also offer 3 hours of complimentary parking which is great since parking downtown can get expensive!