I participated in an Influencer Activation on behalf of Influence Central for Playskool. I received product samples to facilitate my review and a promotional item to thank me for my participation.
As a family travel writer, my family and I get to go on a bunch of cool trips. While the kids love a weekend at the beach or in the mountains or at Disney, it can be hard on them too. It's especially hard on my youngest who often gets carted around to events, performances, and even vacations where he is too young to enjoy most of it. So I was thrilled when I was asked to check out Playskool's new line of on-the-go toys that can be easily transported across the house, across town or across the country!
Playskool's new line is adorable, storable, and portable! Three things I need in toys for my youngest.
Adorable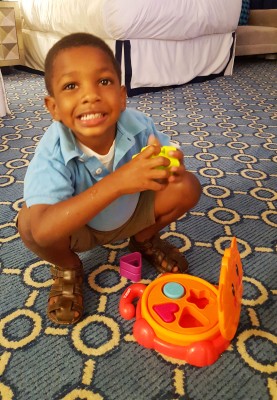 This line of Playskool toys from Hasbro has many uni-sex toys designed for youngsters from birth to about 3 years old. However, I've learned that even older kids can get into them too. They are great for family travel but also for everyday use. I brought the shape sorter on a recent trip to FL and I had to regulate it away from my 5 and 6 year olds. My three year old loves it though it is supposed to be for 18 months and older. I think the bright, happy colors just draw the kids in!
Storable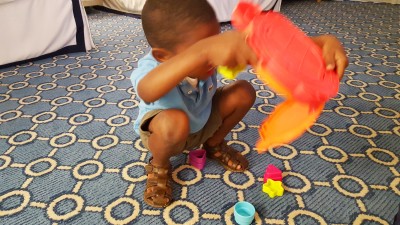 There was no worry about losing pieces to the shape sorter we traveled with, even when it was played with in the car or on a hotel floor. The container keeps everything together and the bright colors are easy to spot if they are dropped. You can tell these toys were developed with input from parents. Playskool must have listened well because they designed toys that make life easier and more efficient. Yes!
Portable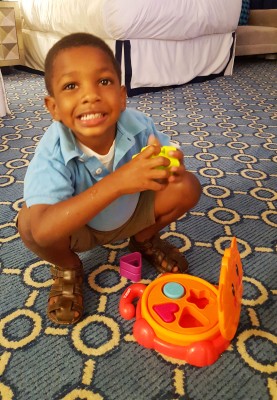 I liked how the products could attach to a stroller or be stored inside a purse or diaper bag for easy access. They are surprisingly light and in addition to entertaining your child, this whole line can also teach them things like fine-motor skills and sensory play too. And the packaging is actually easy to open! This is the line busy moms of many are going to want!
Win a Playskool on-the-go Kit for your own family travel adventures!
Check out this great contest below for the chance to win one of five new Playskool on-the-go prize packs.  The contest is only open until September 30, 2015 so be sure to enter soon. You can enter by choosing a social media sharing option from the social media amplification tool. Influence Central will randomly select five winners from all program entries and will handle fulfillment of the winning prizes.
Playskool Audience Engagement Tool

Let's face it. When you have more than one child, play time can happen any time, at any place. You don't always have the luxury of scheduling tummy time on your pristine living room carpet or the ability to sit for hours while your son practices the skill of unbuttoning. But you might have 30 minutes waiting for the big kids to get home from school, or maybe there's 45 minutes to kill while your older daughter has ballet, or maybe you need a non-battery operated toy to keep your little guy occupied during your family travel adventures (while the iPad charges!).