I love a good tradition. And in Atlanta, Macy's Pink Pig at Lenox Square Mall is the epitome of tradition. The pink train has been delighting families since 1953 with it's train ride through the whimsical, life-size storybook about the holiday adventures of Priscilla the Pig. It is cute and just a "feel good" tradition that you will be glad you started with your family. I've gone every year since I've had children and I'm so glad each time (even after waiting in the long line).
This year, I had the opportunity to attend the preview party for the Pink Pig with my children. There was face painting, balloon animals, and all kinds of pink candy, food, and drinks in addition to the star of the event…the first rides of the season on the Pink Pig. It was a beautiful Fall day and my kids and I had a ball. I love that the Pink Pig is fun but also for a good cause. Proceeds from the Pink Pig benefit
Children's Healthcare of Atlanta
and all the good they do. The very first ride even featured some of their VIPs (Very Important Patients).
So sometime in the next 2 months take a ride out to Lenox Square Mall. Look for the big pink tent at the top of the parking deck near Macy's and plunk down your money for a wee bit of holiday fun. Enjoy!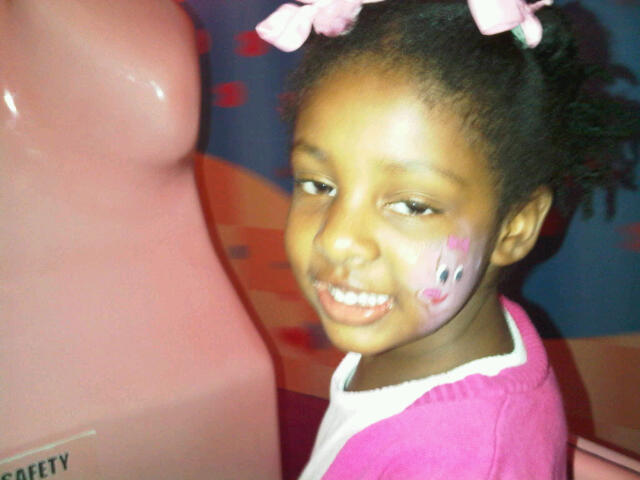 Nina-Rose LOVED her Priscilla face painting.
MORE INFO
The Macy's Pink Pig is now open at the east mall entrance at Lenox Mall. It runs through January 1, 2012 but is closed on Thanksgiving and Christmas day. One ride is $3 per person. Expect lines to be longest on weekends and holiday.