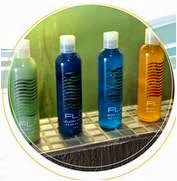 Disclosure: I was provided products and compensation to host this giveaway. No opinions were swayed though in the making of this review.

As moms, "pampering" has probably taken a different turn for most of us. Instead of leisurely gourmet meals, it's now a treat to have 15 minutes to eat a burger before carpool starts. Instead of a weekend yoga retreat, it's now great just to make class at the Y on time. And instead of a day at relaxing spa, like Spa Sydell, pampering now means bringing the spa home for a post-bedtime routine bath. I may not be able to pamper you like in your pre-kids day, but I can help you bring the relaxation of the spa to your bathroom. Read on for a great giveaway!
I have teamed up with Julie from Balancing Mama, Krystyn from Really, Are You Serious, and one of Georgia's premiere day spas Spa Sydell, for a giveaway designed to pamper moms (or anyone) at home. A lucky winner will win
collection of Spa Sydell's new Flo body products: one body wash, one jojoba scrub, and one body lotion ($40 value).
Spa Sydell now offers a brand new exclusive line of Flo body products. These products include spa-quality body wash, jojoba scrub, bath salts, and body lotion and are available in four unique Flo formulations: Agean Sea, Citrus Ginger, Lavender, and Soy Comfort. I love the Citrus Ginger scrub for an inivigorating shower experience in the morning that left my skin butter soft. The Lavender lotion is perfect for a relaxing at night but not too overpowering as to bother my sensitive-nosed husband.
For those outside the Peach state, Spa Sydell is one of Georgia's most premiere day spas. Spa Sydell has become an ultimate destination for reflexology, skin care,
massage therapy
, and
other services that enhance wellness and

well being

.
Want to pamper yourself? Enter below to win Spa Sydell's Flo body products! Giveaway ends November 7th!