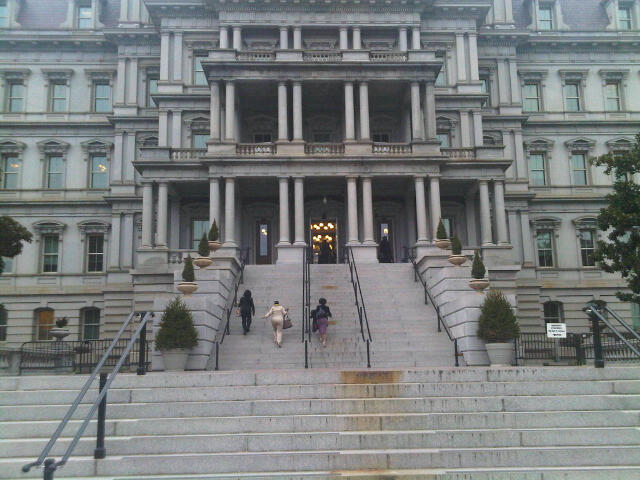 The steps leading up to the south side of the White House, the Eisenhower Executive Building
After a whirlwind few days, I made it to Washington DC, passed the three security check points, and stepped into the White House. The place is enormous (55,000 square feet to be exact), beautiful and made me feel just a little bit more important just by stepping inside. Regardless of your political affiliation, this building commands respect…and I gave it. Spoiler alert: I didn't see the President. (He was traveling.) And the First Lady did surprise a group at the White House that day…but it wasn't my group. (Oh well.)
I was at the White House in the first place to participate with 150 other mothers who are all a part of mother's support organization Mocha Moms Inc. The Environmental Protection Agency and the White House Office of Engagement invited us for a "Mom Summit" as part of their African American History Month celebration. We gathered in the South Court Auditorium in the Eisenhower Executive Building for three hours to hear from high-ranking officials in the Administration tell us what they are doing for women, girls, African Americans, and the nation as a whole. We asked listened, asked questions, and overall came away with a better sense of what our government is doing (and can do) for us.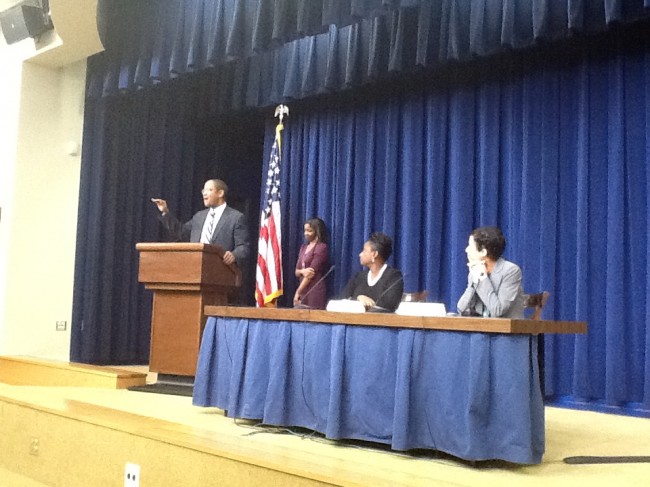 Michael Strautmanis gave us "props"!
One of the most powerful moments of the day was when one of President Obama's closest advisors, Michael Strautmanis, the Deputy Assistant to the President, popped his head in to say a few words to us. Though he wasn't on our agenda, he said he heard Mocha Moms were in the building and had to come down to let us know our presence as mothers is not one they take for granted. "We see you," he said in a moment of gravity. He let us know that this Administration and this White House "sees" us and values us. For someone who too often says she is "just a mom", I felt filled up with a new found respect for myself and my fellow moms. (And I love that it came from a fellow University of Illinois alumni!)
My two days in Washington DC were terrific. In addition to the White House event, I was able to rest, relax, and spend some good girl time with my Mochas. A dozen of us made it a point to eat at Art Smith's posh Capitol Hill restaurant, Art and Soul, for a three hour gab session and food fest. (Check out his Atlanta one, Southern Art. Delicious!) My blogger friend at Stress Free Baby hooked me up with a great rate at the ritzy Omni Shoreham, (who hooked me up with a suite!), and Priceline came through with a decently priced plane ticket so all in all I didn't have to break the bank for this trip. My husband held down the fort with the three kids (even taking them to the circus). And I, at 6 months pregnant, was still able to truck all over DC with no problem. All in all, it was an amazing experience I will never forget.
Click here for a pictorial representation of the day.