Private moments from a school program. Photos of the first "#2" on the potty. That great picture of the kids at the beach when you look like a drowned rat. All these things may not be appropriate for Instagram or Facebook. (Please don't be that mom who puts poop on her Facebook page. Please.)  But you still want to share them with  your mom, sister, and few close friends. KidsLink, an innovative new app, lets you overshare as much as you want.
KidsLink is a free, private social network and world-management app for moms.  It lets moms share information in a secure way. It's like a group text…but better. KidsLink also helps busy moms like me (hello…4 kids!) organize their children's important information, milestones and memories with just the swipe of a finger.  Created by Atlanta-based parents and entrepreneurs, KidsLink is now available for iPhones in the iTunes App Store. (Android is in the works…don't worry.)
KidsLink is invite-only. But I've got your invite. Download KidsLink at mykidslink.com/install and redeem code MARIA. And it's free.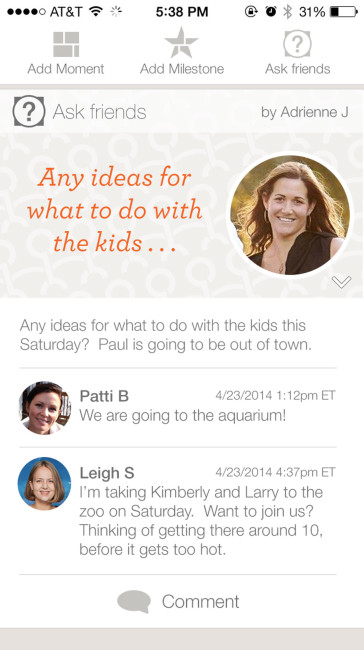 Founded on the premise that the job of being Mom is one of the toughest to manage in the world, KidsLink combines the best of a trusted social network with a highly secure filing system via three key features: the Stream, Vault and Storyboard. Through the Stream, moms can privately connect and seek advice from their close and trusted family and friends. The Storyboard auto-scrapbooks every child's moments and organizes them chronologically, making the need to weed through photos and recall dates obsolete.  The Vault is a secure place to keep all important information for easy access, such as art, insurance cards and immunization records. Vault files can be shared with family, caregivers and healthcare providers as needed.
For me, KidsLink is something that helps me easily make note of the day when my 6 year old tied his shoes for the first time. Or digitally store those 10 pictures my 7 year old daughter colored last weekend. Or keep straight what my pediatrician said at my youngest child's last well-check. It lets me send a photo showing how cute my 4 year old looks when he's asleep to my sisters in Arizona.  It's easy, straight-forward, secure and best of all, it's actually HELPFUL. Give it a try. Did I mention it's free?
Download KidsLink at mykidslink.com/install and redeem code MARIA.
This post contains affiliate links that may help me buy lunch one day.  Thanks for that.