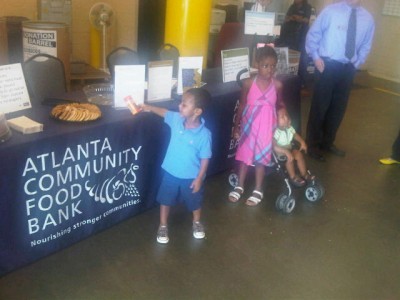 My three little ones snacked on juice and cookies while learning about helping others.
I had the opportunity today to visit the Atlanta Community Food Bank along with my children. We were invited to witness the amazing donation by Kimberly-Clark of 200,000 Huggies diapers. Wow! Did you know 1 in 3 American mothers struggle to provide diapers for their babies? The Huggies Every Little Bottom Study found these mothers have had to cut back on basics such as food, utilities like heat or electricity, or even child care in order to provide enough diapers. That's why this shipment was so huge. It will help thousands of moms who just need a few more diapers to get them through the week.


The trucks ended up behind schedule and so we didn't actually get to see such a massive amount of diapers but we still got a great tour of ACFB and were able to learn more about this fantastic organization. (And I have to say that 3 kids under 5 are not usually welcome at ACFB but today was a special occasion and the entire staff really made my kids feel at home. They loved the cookies and juice boxes!)
The Atlanta Community Food Bank is a desperately needed agency in Atlanta. They distributed nearly 34 million pounds of food and grocery products in fiscal Year 2010-11 compared to nearly 8 million more pounds then the prior year. Almost 59,000 people are now receiving emergency food each week through a network of nonprofit partner agencies served by the Atlanta Community Food Bank. In addition to the food they give out daily, ACFB also stocks a Kids in Need school supplies mini-store for teachers in low-income schools. I think that's a great way to support educators and the children who need it most.
ACFB founder and executive director, Bill Boiling talks to a fellow blogger
Look for barrels like this around the city to drop off food for the Atlanta Community Food Bank
The food in this huge warehouse feeds thousands of people every day
For more information about ACFB or to learn more about how to get involved in local hunger-relief efforts, visit www.ACFB.org.